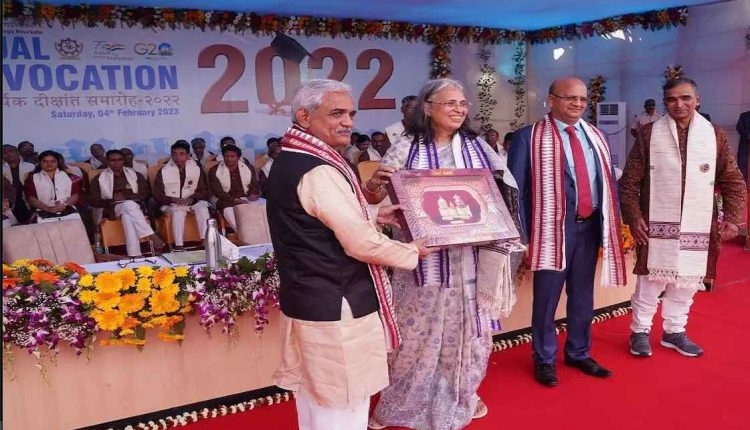 1717 Students Receive Degree At 20th Convocation Day Of NIT-Rourkela
Rourkela: The 20th convocation of the National Institute of Technology- Rourkela (NIT-R) saw 1,717 students being awarded degrees. While the students were presented with hard copies of the degree, certificates and transcripts were also uploaded on the digital wallet 'DigiLocker' as part of the Digital India initiative.
"The occasion is a celebration of the successful contribution of all stakeholders to the glory of the Institute and culmination of another stage of academic pursuit by the students. NIT-R has created magnificent physical facilities and a rich legacy of academic excellence," said Steel Authority of India Limited chairman Soma Mondal.
Mahanadi Coalfields Ltd CMD Om Prakash Singh told the students, "You all have been trained and groomed to be successful engineers. To navigate the path of engineering life you must have up-to-date technical knowledge, communication and interpersonal skills, leadership quality, analytical ability, creativity, enthusiasm, knowledge of micro planning and the ability to quickly recover from difficulties. Go out to explore the world."
NIT-R director and chairman of the Board of Governors of the institute Prof K Umamaheshwar Rao, who presided over the convocation ceremony, said: "The institute has completed its glorious journey of 60 years. We are continually moving forward with our vision to become an internationally-acclaimed institution of higher learning that will serve as a source of knowledge and expertise for society and be a preferred destination for undergraduate and graduate studies."
A total of 767 BTech, 17 BArch, 41 Dual Degree (BTech and MTech), 41 integrated MSc (5 years), 151 MSc, 23 MA, 26 MBA, 525 MTech, two MTech (by research) and 124 PhD degrees were awarded at the convocation. The occasion was also marked with the presentation of Institute Gold medals and Distinguished Alumnus awards.
According to a press release, the number of female students graduating from the Institute's various streams has increased and the 351 female students are more than 20% of the graduating class. Of them, 136 were in bachelor's programmes, 177 were in master's programmes, and 38 were in PhD programmes.