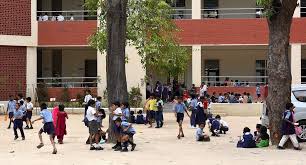 Vijayawada: Government schools' admission process for the coming session in Telangana began soon after the central government's Unlock 4.0 guidelines were released. In the guidelines, the Centre allowed the states to have 50 per cent of teaching and non-teaching staff in the schools for online teaching or tele counselling purposes.
"We have formed into teams of three teachers each and visit the school on a rotational basis — each team will visit the school every alternate day. As the schools have not yet reopened, attending to school work daily is not necessary," K Srinivas Rao, Hindi teacher at Gandhi Municipal School, was quoted as saying by The New Indian Express.
Teachers visiting the school every alternate day will have to complete all the day's work. This includes solving children's doubts, administrative work, answering tele-counselling calls etc.
"We thought of beginning the admission process after August 15. But the Collector, anticipating that a few low-lying areas may be inundated due to floods, asked us to help in relocating people," Rao added.
Meanwhile, Classes IX and X students were advised to follow the lessons imparted via Vidyavaradhi and approach the teachers only if they have doubts. Some students are calling us and clearing their doubts, some are not even following the lessons, a teacher was quoted.
"Though we will teach the lessons again once the schools reopen, it is better if the students attend the online classes. Though students of Classes IX and X are allowed to come to the schools to get their doubts cleared, however, we have advised them to call us to avoid unnecessary exposure to the virus. This apart, only the parents will be allowed to come to the schools for the admissions," added the teacher.