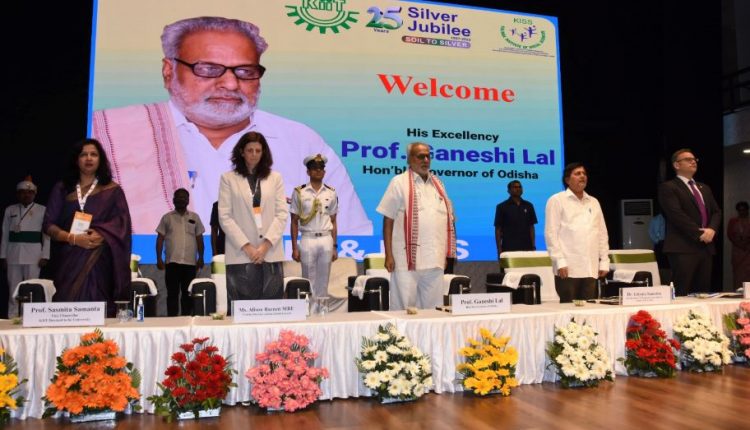 Bhubaneswar's KIIT Hosts Indian Universities Forum Meet; Odisha Guv Stresses On Importance Of Education
Bhubaneswar: Odisha Governor Prof. Ganeshi Lal underlined the value of education for emancipation of the masses, while inaugurating Indian Universities Forum conclave, organised by Times Higher Education, at KIIT DU on Thursday.
"The purpose of education is social upliftment, renouncing negativity and leading a fulfilling life that transforms the earth into a heaven," Prof. Lal said.
Talking about the virtues of peace and harmony in society, the Governor said that when the world was busy waging wars, Prime Minister Narendra Modi remained engaged in giving vaccines (to fight the pandemic) and committed himself to spreading the message of amity in society.
Alison Barrett, Country Director (India) of British Council, commended the role of KIIT and its Founder Dr Achyuta Samanta in education and playing a significant role in socio-economic development of the poor and tribals of Odisha.
Hailing KIIT's transformation as nothing short of "grass to gold", Barrett praised the objectives of KISS in promoting multi-lingual language for the spread of education and winning the UNESCO Literacy Prize in 2022 for this endeavour.
She assured that British Council was committed to supporting the shared future of India and the UK in the fields of online education, research and collaboration, and also supporting the traditional crafts sector that employs 200 million Indians.
Phil Baty, Global Chief Affairs Officer of Times Higher Education, highlighted the remarkable journey of KIIT which has become one of the prominent centres of higher education in just 25 years of its existence. He underlined the Times Higher Education report of 2022, that has placed KIIT at 8th position in the world in tackling inequality.
KIIT, he observed, is among the few universities in India which have done remarkably well in the field of research.
KIIT and KISS Founder Dr Samanta spoke about the transformation of KIIT from a two-room institute to one of the largest universities in the country and its contribution to tribal empowerment.
"We are not confined to education only, we are serving society as well," he said.
Dr Samanta added that the theme of the conference — 'optimising learning landscape' — is relevant, especially at a time when COVID-19 pandemic has brought major disruptions in the academic landscape.
The conference is being attended by academicians from India and abroad, along with key functionaries from British Council and Times Higher Education.