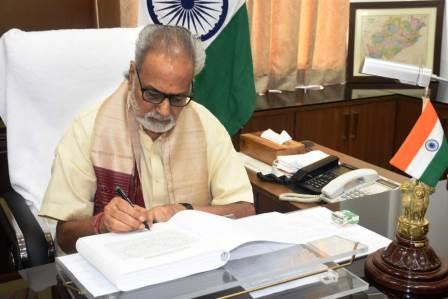 Centurion University Confers Honorary Doctorate To Sreedhara Panicker Somnath
Bhubaneswar: An honorary doctorate degree was conferred on Dr Sreedhara Panicker Somnath, Director, Vikram Sarabhai Space Centre on the occasion of the eighth convocation of Centurion University of Technology and Management (CUTM) Odisha that was held virtually.
Dr Somnath, in his address, congratulated all the graduates for getting their degree and urged the students to keep learning, adapting and reinventing themselves. He also highlighted the nation's many successes in the space field.
Prof. Ganeshi Lal, the Governor of Odisha, presided over the event and conferred the degrees on the graduating students. In his address, Lal congratulated the graduating students and urged them to strive for building a sustainable and equitable world.
Lal also congratulated the university for seamlessly integrating conventional and vocational education as well is its social entrepreneurship initiatives.
Dr Supriya Pattanayak, the Vice-Chancellor of CUTM, highlighted the significant achievements of the university, including its skill integrated and experiential pedagogy, strong focus on applied research and product development and 70 per cent-plus placements for its students.
Over 2200 students across 32 programs graduated from the University in 2020. Also, 8 PhD degrees, 10 gold medals and 42 merit certificates in various disciplines were awarded. Prof. Mukti Kanta Mishra, president and Prof. DN Rao, vice-president graced the occasion.
Centurion University was established in 2010 and has been notified as the First Skill University in Odisha and is the only university in the country to be recognised as a "Centre of Excellence" by the Ministry of Skill Development Entrepreneurship.
It is accredited with NAAC (Grade A) and ICAR.