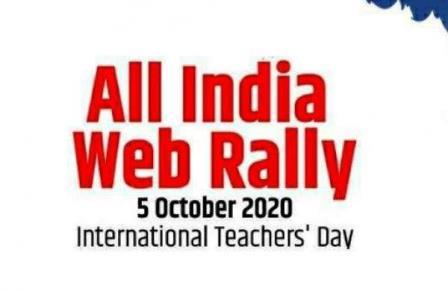 New Delhi: An all India web rally was organised by the All India Federation of University and College Teachers' Organisation (AIFUCTO) demanding the withdrawal of the National Education Policy (NEP 2020).
The AIFUCTO chose to conduct the event on International Teachers' Day on October 5 and hoped that their voice would be heard by the government.
The teachers' body decided to hold the protest virtual due to the COVID-19 pandemic. The rally began at 2 pm on Monday when all AIFUCTO branches across the county came together to voice protest against the NEP 2020. AIFUCTO has frequently raised voice against the NEP for being discriminatory and exclusionary. As a campaign, the members have all changed their WhatsApp profile pictures and replaced them with posters demanding the NEP withdrawal.
The organisation speakers also came on the live telecast to explain the need for the NEP to be withdrawn. "Let the academic community of the whole country unite in protest against NEP," the general secretary and president wrote.
The AIFUCTO had earlier alleged that the MHRD was not taking into account several recommendations that they made with regard to the NEP.
"On behalf of AIFUCTO, I want to make it very clear that the claim of the Minister that the NEP was the outcome of wide consultations is not based on our estimation. In spite of repeated requests, presentation of our memorandum and appeal, the request of AIFUCTO for discussion was never considered. Not a single recognised teachers' organisations, student organisations, employees organisations and others were consulted for discussions. In our opinion the proposed NEP is undemocratic in character and exclusions in its manifestation" general secretary of the AIFUCTO, Dr Arun Kumar had said in May.