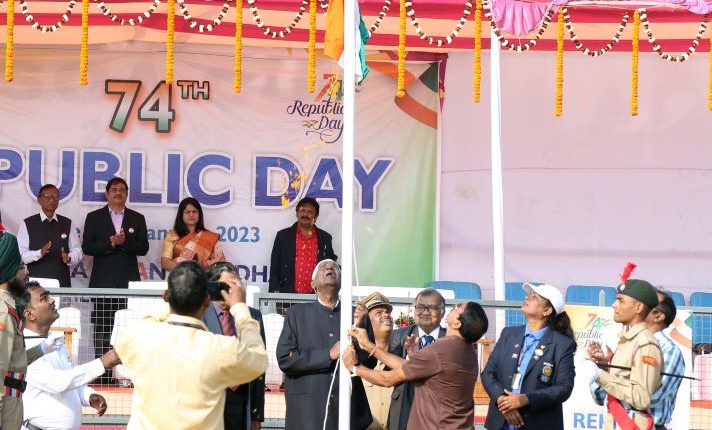 Colourful Cultural Extravaganza At Bhubaneswar's SOA To Mark 74th Republic Day
Bhubaneswar: Siksha 'O' Anusandhan (SOA) Deemed to be University celebrated the country's 74th Republic Day in style on Thursday.
After Chancellor Prof. D P Ray unfurled the national flag, a colourful cultural programme was organised at the university stadium. Students, faculty members and others witnessed the programme.
Prof. Ray highlighted the progress made in various sectors since Independence, which has made India a strong nation.
An agricultural scientist himself, he said as per advance estimates for 2022-23, India's total food production would be around 328 million tonnes, which is 6.98 million tonnes higher compared to the average food production of previous five years.
Prof. Ray said SOA had become one of the largest and most preferred multi-disciplinary, research-driven and extension-oriented universities. SOA's vision was to become a leading institution of higher learning in its chosen areas of concentration to prepare future generations through quality teaching and innovative research, he said.
He mentioned that the university – where students from several foreign countries were studying in different institutes under SOA — was focusing on interdisciplinary and trans-disciplinary research activities, having filed 355 patents of which 27 have been granted.
Students from several foreign countries attended the programme and felicitated the Chancellor and other dignitaries.
SOA Pro-Chancellor Prof. (Dr) Amit Banerjee, Vice-Chancellor Prof. Bijay Kumar Sahu, Pro-Vice Chancellor Prof. Pradipta Kumar Nanda, Pro-Vice Chancellor-cum-Registrar Prof. Bibhuti Bhushan Pradhan, Dean (Students' Welfare) Prof. Jyoti Ranjan Das and Deans of different institutes and Directors were present.