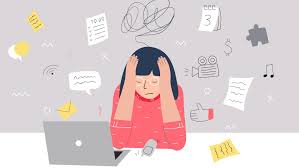 Ranchi: The ongoing COVID-19 pandemic and the subsequent lockdown has increased stress, anxiety, trauma and other related mental illnesses. This, however sad, has the potential to increase the scope of opportunities in the field of psychology studies, research and career.
During the lockdown, there was a spike in the number of cases related to mental illness. The Indian Psychiatry Society had reported an increase of 20 per cent mental illness within one week of the lockdown. Not to forget, in 2017, the World Health Organization (WHO) had declared India the "most depressing country in the world" and stated that one in seven people suffer from some kind of mental illness.
There have also been increased cases of domestic violence, suicides and depression. Moreover, according to a study, some COVID positive patients who have recovered will never be able to live a normal life, because of the mental and physical trauma they experienced due to the pandemic.
There had been 300 non-coronavirus deaths in the country due to the distress caused to them during the lockdown period. Moreover, around 80 people killed themselves over the fear of being lonely after testing COVID positive, according to a study conducted by a group of researchers consisting of public interest technologist Thejesh GN, activist Kanika Sharma and Prof. Aman, assistant professor of legal practice at Jindal Global School of Law.
Post Traumatic Stress Disorder (PTSD) is common with people who go through traumatic experience, like a war. According to a Global Health Research and Policy article, 'most epidemiological studies indicate the survivors reported the highest prevalence of PTSD, followed by victim families, medical professionals providing care to patients with infectious diseases, and others.
With a need to provide rehabilitation to all these people, provide emotional help, the role of psychiatrists and psychologists become imperative. It opens the door of possibilities and opportunities for those pursuing psychology as a subject now. In the future too, as it would lead to a fulfilling and paying career option as a practising psychiatrist, researcher and many more. A single session of counselling of an hour in Delhi costs Rs 700 to 1000 at present. In the future, the rates are bound to go high.
According to an article by Monica Chaudhary, Director, Sushant School of Health & Sciences, Ansal University for The Indian Express, "There are only 9000 psychiatrists available for 1.3 billion Indians and less than seven psychologists available for a population of 10 million, as per the WHO report in 2017. This gap is huge and is expected to widen more if the young adults do not choose to enter into this profession."
In today's time, people require more psychological advice regarding their professions and delay in seeking or disregarding it can have adverse health effects. Thus, only higher education in this field can help narrow the gap.