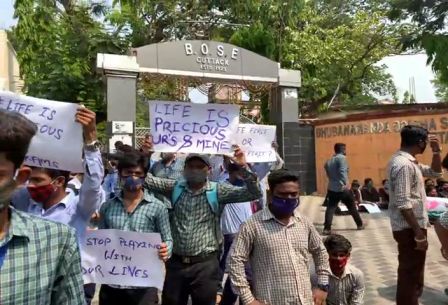 Cuttack: Tension ran high at Bhubanananda Odisha School of Engineering (BOSE) in the city on Tuesday after irate students staged a road blockade demanding online examination following an outbreak of COVID-19 in the institution.
According to sources, three students of BOSE had tested positive for the virus on March 27. Apprehending more infection, the students had a meeting with the authorities to postpone the offline examination scheduled on March 31.
As the authorities did not agree to the demand, the students came to the street on Tuesday and blocked the road in front of their institution by burning tyres.
Following information, senior police officers rushed to the spot and requested the students to withdraw the stir.
Till reports last came in, the students have stuck to their demands.
Talking to the media, some students said they have demanded immediate closure of the institute, cancellation of the offline examination and announcement of a date for that in an online mode.
Asked about the matter, the principal of the engineering school Gyana Ranjan Ray said that he had informed the higher authorities about the demands of the students for online examination and they will take a final call on this matter.
ALSO READ: COVID-19 Negative Students Asked To Leave NIT-Rourkela Hostels