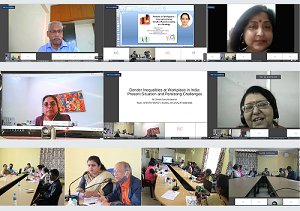 CUO Organises Webinar On Gender Mainstreaming In Workplace
Bhubaneswar: The Internal Complaints Committee of the Central University of Odisha (CUO) organised a webinar on "Gender Mainstreaming in Workplace: Vigilance & Initiatives".
IGNOU's director of School of Gender and Development Studies, Prof Nilima Srivastava delivered the keynote address, while Mahila Adhikar Abhiyan chairperson Namrata Chaddha, Hyderabad University's head of Centre for Women's Studies Prof Sheela Suryanarayanan, and Obstetrician & Gynaecologist Dr Sarojini Sarangi spoke on the occasion.
Vice-Chancellor of the CUO, Professor I Ramabrahmam delivered the inaugural address. DBCNR assistant professor and ICC presiding officer Dr Kakoli Banerjee welcomed all the dignitaries and explained the scope and significance of the ICC and Gender studies.
The Vice-Chancellor outlined the importance of the Gender Equality programme not only at the government level but also at university levels in his inaugural address. He also urged the CSR wings of PSU's and Banks to distribute 20-30 laptops or tablets to tribal girls for their empowerment.
Prof. Srivastava delivered the keynote address titled 'Women at Workplace: Conceptualizing Gender Mainstreaming as a Strategy'.
ALSO READ: Ramesh Pokhriyal Webinar On Exam Queries Postponed To This Date