Bhubaneswar: Cracking the Union Public Service Commission (UPSC) Exam and qualifying as an Indian Administrative Service (IAS) officer is one of the toughest jobs. Lakhs of aspirants appear for the UPSC preliminary exams every year for only a few 100 seats up for grabs.
Hard work coupled with merit is necessary for candidates to succeed in this competitive exam. One often wonders about the salary IAS officers earn during different stages of their career.
Let's check the positions, salary and perks of the IAS officers below:
Positions
Through the Indian Administrative Service (IAS), the officers earn a chance to work in the bureaucratic set-up of the country. The IAS officers work at several different ministries and departments of country and state administrations. For an IAS officer, the senior-most position is a cabinet secretary.
Salary
Candidates who clear the UPSC exams and become an IAS officer are entitled to an attractive salary. As per the 7th Pay Commission, the basic salary of an IAS officer is Rs 56,100. Besides the salary, an IAS officer is also provided with several other allowances, which include Travel Allowance (TA), Dearness Allowance (DA), House Rent Allowance (HRA), Medical Allowance and Conveyance Allowance.
Going by media reports, the total salary of an IAS officer is more than Rs 1 lakh a month. Also, if an IAS officer gets promoted to the rank of cabinet secretary, his/her salary becomes Rs 2,50,000 a month. The cabinet secretary earns the highest salary among all IAS officers.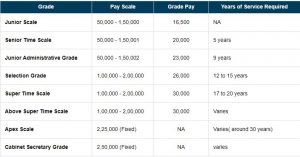 The IAS Salary structure is divided into eight grades with each grade having a fixed basic pay and grade pay. This component remains fixed throughout the grade.
Meanwhile, IAS officers' HRA ranges from 8 per cent to 24 per cent of the basic salary.
Perks
There are various kinds of pay bands for the IAS officers, which include Junior Scale, Senior Scale, Super Time Scale. The officers are provided several other facilities, like a place to reside, cook, and other staff members.
ALSO READ: Five Most Sought-After Fashion Institutes In India