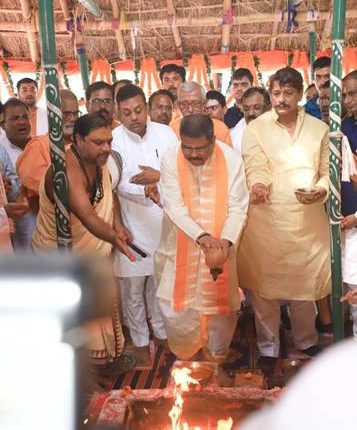 Foundation Stone Laid For Various Facilities At Puri's Central Sanskrit University, Shree Sadashiva Campus
New Delhi: Union Minister for Education and Skill Development & Entrepreneurship on Saturday Dharmendra Pradhan laid foundation stone of the academic administrative building, boys' and girls' hostel building, quarters and sports facilities at the Central Sanskrit University (CSU), Shree Sadashiva Campus, Puri.
He also inaugurated a three-day international seminar titled 'Lakshmi Puran of Balaram Das: A New Discourse on Equity, Empowerment & Emancipation' at the campus.
The Sanskrit translation of Lakshmi Puran was released during the event.
Delivering the keynote address as CSU Chancellor, Pradhan said that the projects worth Rs 100 crore launched on Saturday will be utilised to connect Indian languages and Vedas with the modern education system.
The Union minister said the Central Sanskrit University, Puri, has created its own identity in promoting Sanskrit language.
Speaking on the importance of Lakshmi Puran, Pradhan highlighted how by assimilating knowledge, values and message of Vedas, we can move towards social justice, women empowerment and women-led development.
Laxmi Puran is a devotional lyrical poetry composed by great saint poet Balaram Das — known as the 'Balmiki' of Odisha — in 15th Century AD in Puri.
CSU New Delhi VC Prof. Shrinivasa Varakhedi, CSU Shree Sadashiva Campus (Puri) Director Prof. Atul Kumar Nanda, former National Sanskrit University (Tirupati) Vice-Chancellor Prof. Harekrushna Satapathy were present at the function along with other academicians, dignitaries, scholars and students.
Shri Sadashiv Campus, Puri, is one of the largest and a premier campus of Central Sanskrit University, spread over 15.28 acres.