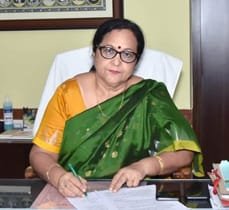 Gitanjali Dash, Vice Chancellor Of Berhampur University, Elected President Of Indian Political Science Association
Berhampur: Vice Chancellor of Berhampur University, Prof Gitanjali Dash has been elected as the president of the Indian Political Science Association (IPSA).
She was elected to the important position uncontested during the annual session of the IPSA, held in Wardha on September 9 and 10, sources said.
Prof Dash's election as IPSA president is being described by educationists and intellectuals as a historic moment for Odisha as she becomes the first woman from the state to hold this esteemed position.
Earlier, distinguished scholars like Prof Ramchandra Dash, Prof Aditya Prasad Padhi and Prof J K Mishra represented Odisha in this capacity. This remarkable achievement marks a significant chapter in the annals of Berhampur University's history.
Prof Dash has expressed her gratitude to all members of the IPSA and has pledged to prioritise the enhancement of the council and the promotion of research in the field of political science during her tenure.
The IPSA, founded in 1938, is the apex body representing students, researchers, and faculty members engaged in political science in India. With a legacy spanning 85 years, IPSA has played a pivotal role in advancing the discipline of political science in the country.
The election of Prof Dash underscores the profound respect and admiration she commands within the political science community. It is a moment of pride for Berhampur University and the entire state of Odisha.