IIMC Entrance 2020 Date Out, Students Can Appear From Home
New Delhi: The National Testing Agency (NTA) is going to hold the entrance exam of the Indian Institute of Mass Communication (IIMC) on October 18.
Interested students will have to take their examination from home as the entrance exam is going to be held remotely. The official notice stated, "The candidates can take the admission test remotely from their home or a place of their choice. They need to have a desktop or laptop computer with a good internet connection."
The journalism institute has also extended the deadline to apply for admissions to eight post-graduate diploma courses, till September 23. Students can visit the official website and apply online at iimc.nic.in.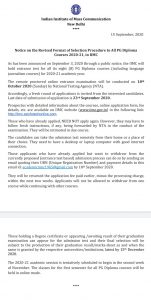 This year, the entrance exam will consist of multiple-choice questions carrying a total of 100 marks. However, in the previous year, the exam included a descriptive paper carrying 75 marks, followed by group discussion carrying 10 marks and an interview of 15 marks. There will be no group discussion and interview this year.