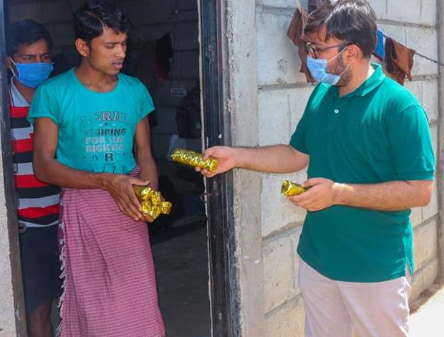 IIT Gandhinagar, CPWD Join Hands To Support 800 Construction Workers Amid Lockdown
Gandhinagar: The Indian Institute of Technology (IIT) Gandhinagar has collaborated with the Central Public Works Department (CPWD) to ensure the health, safety and well-being of 800 workers involved in various construction projects at the institute before the lockdown was announced.
While CPWD distributes food grains and cooked food to the workers, IIT Gandhinagar's 'Shramik Kalyan Samiti' provides medical support with free COVID-19 screening tests and also recharge the workers' phones with a 28-day validity plan to help them stay in touch with their family members.
@iitgn has taken several initiatives to support the institute's construction workers in the wake of #COVID19 pandemic. The institute's Shramik Kalyan Samiti recently carried out a drive to distribute essential relief material like biscuits and mosquito coils to the workers. pic.twitter.com/jY6blQjwee

— IIT Gandhinagar (@iitgn) May 2, 2020
"Our volunteer groups regularly sensitise the workers and create awareness about preventive measures against COVID-19, such as frequent hand washing and social distancing. Breathing techniques have been explained to labourers. All the workers' colonies are equipped with a first aid box," director of IIT Gandhinagar, Sudhir Jain was quoted as saying by India Today.
The workers have been paid the wages for the month of March and the institute is in touch with government authorities to provide them with April wages as well.
Moreover, the institute has also launched a fundraising drive to provide continued income support for construction workers and their families during the lockdown. IIT Gandhinagar is contributing an equal amount received from donation to double the funds raised for workers' welfare, the director added.