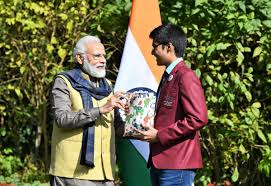 JEE Advanced Topper Chirag Falor Chooses MIT Over IIT, Sparks Online Debate
Bhubaneswar: JEE Advanced 2020 All India topper Chirag Falor's decision to choose Massachusetts Institute of Technology, MIT over the Indian Institute of Technology, IIT, has sparked a huge debate on Twitter. While some say it is the trend, others debate over the need to raise the level of Indian Institutes.
When the JEE main result was declared, Pune's Chirag who had secured 12th rank had already mentioned that he had secured a seat at the prestigious MIT, one of the top 5 institutes in the world.
He has been since then taking night classes for MIT and preparing for the JEE Advanced alongside.
Falor has chosen to give IIT Delhi a miss by choosing MIT. According to him, he only sat for the JEE as he had been preparing for it for the past four years.
However, his decision has led to debate online. Read some of the reactions here.
Good.
Looks like he has read NEP 2020.
Very soon there will be shitting syllabus on Veda, Yoga in IIT.

— Debasish Paul (@ComradeDebasish) October 5, 2020
Good choice. Here a reserved student will get more benefits than him despite of scoring less.

— AK (@PunjabiByDil) October 5, 2020
It's a choice amongst various institutions. MIT stands tall among world's top institutes and no wonder a person of his caliber chose it. India has to raise our institutions to that level in the coming decade.

— Anil Padmanabhan🇮🇳🕉️🚩 (@anilp68) October 6, 2020
to all…he would've moved to US after IIT anyway. This is what the trend is IIT -> MS in US -> Job in US.
Don't be so shocked.

— Pryavaran (@Archit1990) October 5, 2020
Okey now u realise why US is great – catch the best talents – frankly even after IIT he would have gone abroad -ok from boy perspective he will miss out some really nice company here on flip side – some sheen loss TO IIT Brand due increase in reservation .- GOI do atmamathan

— bhasker misra (@bhaskermisra1) October 6, 2020
Yeah reservation is such a big problem in colleges. Totally not like a topper would easily get a seat. Totally unlike it's needed to help the untouchables raise the social scale because none of them live in slums and most are super rich /sarcasm

— BB South King (@BBSouthKing1) October 7, 2020
This is definitely a great decision. Do no waste time studying where you can get admission based on caste system and may be people who teach you there as well. At least he will have all bright people around him. Moreover Institution does not matter for his capability.

— amit kumar jha (@a_K_J_AmitJha) October 6, 2020
All the best to him!!! If he can contribute back to the country after gaining knowledge in US, it will be great!! Otherwise no worries, others will step up to the task, let him chase his dreams 🙏

— Vishwa Vijayi Bharat (@BharatVijayi) October 5, 2020