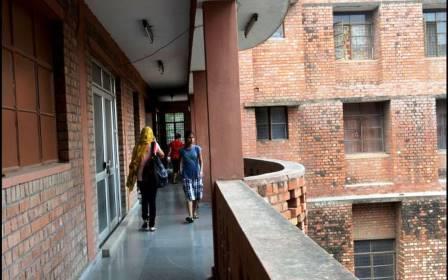 New Delhi: Following authorities' direction to plan students' return to the Jawaharlal Nehru University (JNU), students themselves have prepared a blueprint to bring back the final semester students and research fellows in the hostels in a phased manner.
This includes the safety measures that need to be maintained when they are on campus. The three-phase plan takes care of everything from the need for an isolation centre, testing facility to thermal scanning and sanitisation, according to EdexLive.
The JNU Students' Union and the presidents of hostels urged the authorities to arrange an isolation centre for the students who arrive when testing is not possible.
"Alternatively, the testing facility should be operational 24×7," the blueprint said. This will be sent to the administration. "However we reiterate that the JNU Administration must hold an IHA (Inter-Hall Administration) Committee meeting, which is the statutory body to discuss all matters regarding the hostel administration and general health and well being, at the earliest to discuss and adopt the timeline for the phased return of students to the campus," the union said.
According to the Union, the blueprint also added that the identified quarantine centre must ensure appropriate facilities for specially-abled students.
"An RT-PCR COVID testing centre should be made functional inside campus with the help of the Delhi and Central government. The isolation facilities shall provide sanitisers, masks, basic amenities and mess facilities which can ensure physical distancing by food delivery or one by one take away," read the statement.
"Thermal scanning and sanitisers should be available at the gates, hostels, library, and schools. Arrangements should be made to provide healthcare and hospital facilities if needed. Separate arrangements can be made for students with lung ailments. Accommodation should be arranged for students awaiting their RT-PCR results on campus," statement was quoted by the portal.
Keeping in mind the UGC and MHA guidelines, the phased return of students should be initiated by October 15, demanded the students. The three phases that they have proposed will commence on October 15 with the final year students and research scholars on extension under 9(B) who have their submissions in December.
In this phase, specially-abled students and students stranded in Delhi will also return. Phase II beginning on November 1 will allow the rest of the research scholars and postgraduate students to come back, especially the ones who need to use the labs.
In the third and final phase, undergraduate students will return, according to the plan.
"There has been immense damage to the academic activities of the students and this has been pointed out before as well. The administration should facilitate the safe return of students to the campus. Considering the extraordinary situation, the university should provide an appropriate extension for all research scholars who have not been able to access resources and progress in their research due to the lockdown," JNUSU president Aishe Ghosh was quoted as saying by EdexLive.