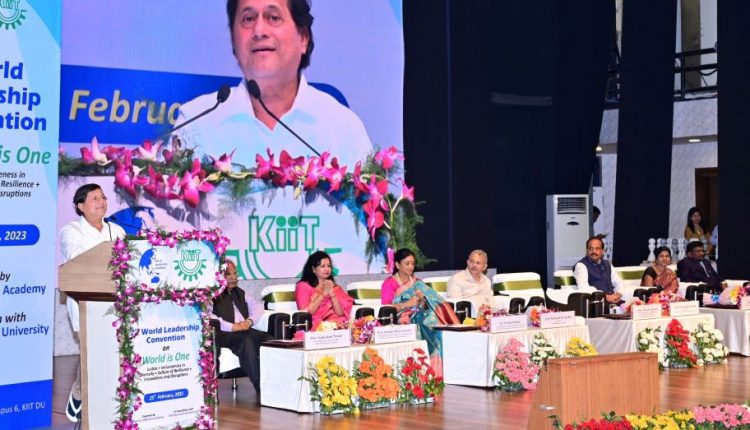 KIIT Bhubaneswar Hosts 2nd Leadership Convention Themed 'World Is One'
Bhubaneswar: Top academicians including several IIT faculties, scientists, social scientists and business leaders attended the 2nd Leadership Convention organised by World Leadership Academy and KIIT DU on Saturday.
The meet, themed on 'World is One', discussed issues like equality and justice, inclusiveness in diversity, culture of resilience and innovation and disruption.
"As I reflect on the important themes of equity and justice, inclusiveness in diversity, culture of resilience, innovations and disruptions, I am reminded of the wisdom of our forefathers. As the proverb goes, 'United we stand, divided we fall'. It is crucial that we recognise our strength lies in our unity and we work towards creating a society that is just and equitable for all," Dr Achyuta Samanta, Founder of KIIT and KISS, said in his address.
Dr Samanta said the G20 membership also celebrates this theme and Prime Minister Narendra Modi has underlined human-centric globalisation.
"The KIIT-KISS campus is also a true reflection of the 'world is one'. The sprawling campuses are a true reflection of the unity in diversity where the elite students, the students from abroad and the less deprived students from tribal areas live in perfect amity and harmony," he added.
KIIT Vice-Chancellor Prof. Sasmita Samanta said the convention seeks to provide a platform for people from different professional backgrounds to come together and discuss various perspectives for creation of societal values.
"It also aims to create a platform for people to connect to different opportunities through education and training," she further said.
IIT Bhubaneswar Director Prof. Shreepad Karmalkar said that KIIT is an institution where education can be experienced in the true sense as it promotes knowledge, skill development, inclusiveness and wealth generation.
Sharing his thoughts on becoming a good teacher, Prof. Karmalkar said that a good teacher is one who makes students do things and engages attention, encourages students to learn things in different ways, is open to criticism and is a good communicator who can make the older generation understand research matters in a lucid manner.
Nandita Pathak, a noted social entrepreneur and Founder-Director of Udyamita Vidyapeeth JP Foundation, Madhya Pradesh, likened the KIIT and campus to a holy place like the 'char dham' where knowledge is disseminated for the good of the society and emancipation of the poor and downtrodden.
Among other speakers were Prof. Manoranjan Parida, CSIR Central Road Research Institute Director; Manorama Pal, indigenous entrepreneur from Maniabandha, Cuttack; Prof. Yudong Zhang of Knowledge Discovery and Machine Learning from School of Computing and Mathematics, Science University of Leicester; Prof. Prasant Kumar Pattnaik, School of Computer Engineering KIIT DU.