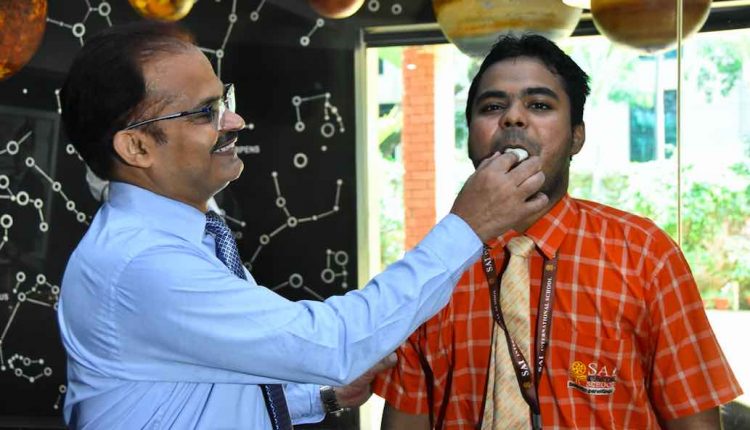 Bhubaneswar: Priya Somadutta Nayak of SAI International School, Bhubaneswar, has set a new benchmark by securing AIR 39 in the NEET (National Eligibility cum Entrance Test) 2022 with a score of 705 and 99.9976198 percentile. Priya, who features in the Top 50 list released by the National Testing Agency (NTA), is also the topper from Odisha this year.
Saumya Sajan Panda of the school also clinched the second position in the state with a score of 686 and a percentile of  99.9744981, while 3 meritorious students, Suryansu Kumar Dash (AIR 475), Pratik Sahoo (AIR 504) and Abhipsa Padhi (AIR 533), shared the third rank with a score of 685 and a percentile of 99.965374, the school said in a press release.
This rank will help Priya realise his childhood dream of becoming a doctor and studying at AIIMS, New Delhi. He knew there is no substitute for hard work and perseverance. With a score of 175 out of 180 in Chemistry, Botany and Zoology and a full score of 180 in Physics, he certainly left no stones unturned to sincerely prepare for the highly competitive national medical entrance.
He began preparing the fundamentals and sincerely pursued his goals related to NEET from Grade VIII itself. Both parents beamed with joy to witness Priya's success and spoke about how their boy has been putting in sincere efforts and has always been a happy and grounded student and that has finally paid off.
When asked about his success mantra, Priya said he dedicated about 8-9 hours of the day to self-study and how his main focus as NCERT books, and solving the mock papers of Aakash Institute. He emphasized that NCERT Books were integral when it came down to being conceptually sound with the subjects and was fundamental for the NEET entrance preparation. He gave the credit for his achievement to both his parents, his teachers at SAI International School, and his mentors at Aakash Institute.
He aspires to excel in the field of Medicine and Nephrology.
"It is a truly remarkable moment for SAI International School, for having SAIoneers not only ace JEE entrances but also the NEET 2022 entrance.  I am super elated with the performance of all the students in NEET 2022, especially all the brilliant state toppers who had been working hard, for the last 2 years. Their sincerity and dedication towards their goals are commendable," said Chairperson SAI International Dr Silpi Sahoo.