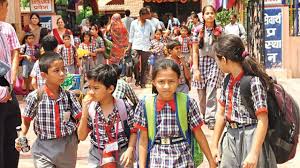 Know When Educational Institutions Will Reopen In Your State
Bhubaneswar: The coronavirus pandemic had forced educational institutions to shut down and conduct teachings through alternative modes. However, after almost five months, some authorities have decided to reopen schools and colleges. Here is the status of several states that have or have not agreed to reopen educational institutions.
ANDHRA PRADESH-
Schools: We will have to wait until September 1 to know the exact status. Earlier, schools were supposed to reopen from September 5, however now, Education Minister, Adimulapu Suresh has said that the decision on reopening schools will be taken on September 1.
Colleges: Colleges across Andhra Pradesh will reopen from October 15, as announced by Chief Minister YS Jagan Mohan Reddy. Common Entrance Test is also set to be conducted in September.
ASSAM–
The state might reopen schools and colleges from September 1 and is awaiting Centre's approval regarding the matter, as stated by Himanta Biswa Sarma, the state's education minister. It has also begun testing those associated with the education sector for COVID before the institutions reopen. The final decision will most certainly be announced before September 1.
DELHI–
CM Arvind Kejriwal on August 15 tweeted that they will reopen schools only after being fully convinced. Manish Sisodia, the education minister for the state, has also said that they cannot even think of reopening the schools. Till date, it only seems that schools and colleges will not be reopening in Delhi any time soon.
GOA-
Schools: No date has been announced. However, Chief Minister Pramod Sawant had said that whenever schools begin, it would commence with standard X and XII classes.
Colleges: Goa Universities and affiliated colleges are set to being the academic year 2020-21 from September 1, though online, according to Goa University registrar YV Reddy.
GUJARAT-
According to news reports, schools in Gujarat might not reopen before November.
KARNATAKA-
According to Deputy CM CN Ashwathnarayan, the academic year for degree colleges in the state will commence from September 1 with online classes. In October, they would switch to offline classes (in-person).
MADHYA PRADESH-
The decision to reopen schools in the state will only be taken after assessing the student's safety, as per CM Shivraj Singh Chouhan.
MEGHALAYA-
Colleges: The State is first to reopen schools from September. Meghalaya Education Minister Lahkmen Rymbui said that the state has already formed a committee that has submitted a report on the protocols for reopening of schools.
MAHARASHTRA-
CM Uddhav Thackeray recently said that the state is not in favour of reopening schools now and talked about shifting the academic calendar to January. However, Mumbai University has asked colleges to conduct online classes.
NAGALAND-
A document was doing the rounds on the internet which stated classes for IX to XII will be restarting from October. However, the government has clarified that the document is a rough piece of work. Hence, there has not been any official confirmation on the reopening of schools in the state.
ODISHA-
CM Naveen Patnaik has announced that all educational institutions including schools and colleges will remain shut till the end of Durga Puja. This year, the festival ends on October 26. The final decision on reopening institutions is likely to be announced in October.
TAMIL NADU-
No decision yet.
TRIPURA-
The neighbourhood classes are being conducted from August 18 with a teacher-student ratio of 1:5. On reopening with full strength, no decision has been announced yet.
UTTAR PRADESH-
There has been no official announcement regarding the same as yet.
WEST BENGAL–
On August 26, the West Bengal government announced that all the educational institutions — schools and colleges — will remain closed in the state till September 20.
However, as most states wait for Unlock 4.0 guidelines, online education continues to be in practice till things become normal.