Bhubaneswar: A survey conducted under the Shikhya Sanjog effort showed that only close to 29 per cent of students had access to smartphones, a bare necessity to pursue studies for students of all grades, during the COVID-19 pandemic in 2020.
For almost two years the education system was paralysed across the world, thanks to the deadly virus that started causing havoc since February 2020.
With over 71 per cent students across Odisha not having access to smartphones for various reasons, districts like Kandhamal (13.38%), Rayagada (14.34%), Deogarh (14.87%) seem to have suffered the most.
Khurda, which includes the capital Bhubaneswar, recorded the highest percentage (45.80%) of students having access to smartphones during the 2020 period of COVID-19. Khurda was followed by Jharsuguda (43.18%) and Kendrapada (42.27%).
It may be recalled that the Odisha government had implemented the Siksha Sanjog Programme across the state to provide online education to students via WhatsApp during the lockdown period in 2020.
Check the list below: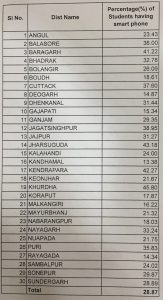 ALSO READ: Percentage Of Students Owning Smartphone In Rural India Rises To 61%: Survey