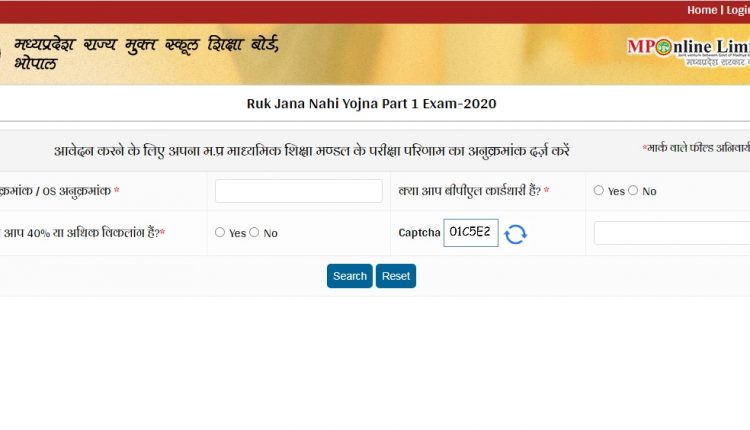 Bhopal: The Madhya Pradesh government on Monday announced that it will provide another chance to Class X and Class XII students to clear their board exams under its "Ruk Jana Nahi" scheme. The scheme has been launched to allow the students who have failed in the first attempt. The scheme is also open to those students who could not appear for the board exams this year.
This year, the board exams under the scheme will be held from August 17. Class X students can apply until July 28 and Class XII students, who are yet to receive their results, can apply till August 5.
Students can apply at https://mpsos.mponline.gov.in/
Madhya Pradesh Chief Minister Shivraj Singh Chauhan has also tweeted about the scheme.
माध्यमिक शिक्षा मण्डल की 2020 परीक्षा में अनुत्तीर्ण विद्यार्थी निराश न हो। उनके लिये #रुक_जाना_नहीं योजना लागू की गई है। इस योजना में अनुत्तीर्ण विद्यार्थियों को पुन: परीक्षा देने का अवसर दिया जाएगा।

आवेदन की अंतिम तिथि
कक्षा 10वीं- 28 जुलाई 2020
कक्षा 12वीं- 5 अगस्त 2020 pic.twitter.com/PXuyq2Hi8n

— School Education Department, MP (@schooledump) July 27, 2020
Madhya Pradesh Board of Secondary Education (MPBSE) has already released the Class X results. In the Class Xth exams, which saw close to 9 lakh students appearing this year, 62.84 per cent have passed. Out of the 4,73,582 boys, 60.09 per cent have cleared the exams. The pass percentage for girls, though, is higher with 65.87 per cent.
MPBSE will release the Class XII results on Monday. As per reports, close to 8.5 lakh students had appeared for the Class XII exams this year which was held in March and later resumed for remaining papers in June. This year the result has been delayed as the board could not complete the exams as per schedule due to COVID-19 outbreak.