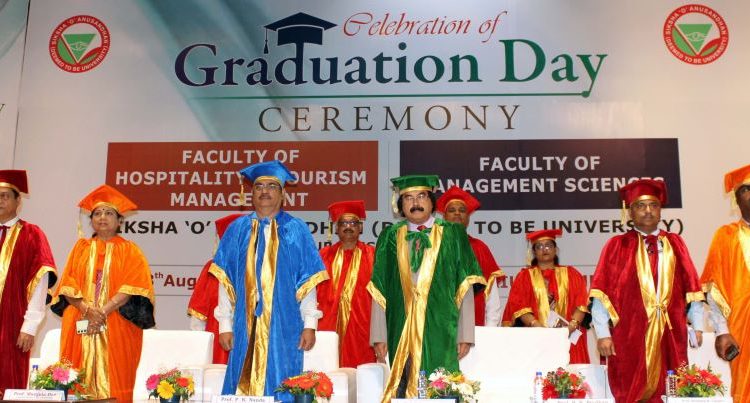 Management & Hotel Management Graduates Of Bhubaneswar's SOA Presented Certificates
Bhubaneswar: Students of management sciences and hospitality and tourism management at Siksha 'O' Anusandhan Deemed to be University were presented their degrees here on Monday.
Students who completed their education in Master of Business Administration (MBA) for 2021-23, MBA (Hospital Administration) for 2021-23 and Bachelor of Business Administration (BBA) for 2019-23 received their certificates at a special ceremony where SOA Vice-Chancellor Prof. Pradipta Kumar Nanda was the chief guest.
Students from 2019-23 batch of Bachelor of Hotel Management and Catering Technology (BHMCT), BBA in Hospitality and Culinary Arts (2020-23) and MBA in Hospitality Management (2021-23 batch) were also presented their testimonials.
Administering the oath to graduating students, Prof. Nanda urged them to excel wherever they were placed.
"The degree in your hand is not a piece of paper but represents all your efforts over the years while bearing testimony to your knowledge, perseverance and integrity. Learning never ends but continues endlessly. You have to use your learning to serve the society and solve problems in a complex environment," the Vice-Chancellor said, adding that the graduates would be the university's ambassadors wherever they went.
Pro-Vice Chancellor Prof. Sitikantha Mishra, Controller of Examination Prof. Manjula Das, Dean of Institute of Business and Computer Studies (IBCS) Prof. Anup Kumar Samantaray, Dean of School of Hotel Management (SHM) Prof. SR Chaini, Dean (Students' Welfare) Prof. Jyoti Ranjan Das and members of the Academic Council and faculty members were present.