National Institute Of Design Hikes College Fee Amid COVID-19 Pandemic; Students Peeved
Ahmedabad: The decision to hike fees by the National Institute of Design (NID) for the second consecutive year has displeased the students.
Students of the college wrote to the Fee Cell and Education Chairperson putting forward their grievance. They expressed their displeasure over the fee hike amid the coronavirus pandemic and the five working days deadline by the institute.
According to a letter addressed to the authorities, the students expressed they might not be able to arrange the fees in such short notice. They also demanded to know why they were charged Rs 1,65,000 if the guidance were held online over zoom conference.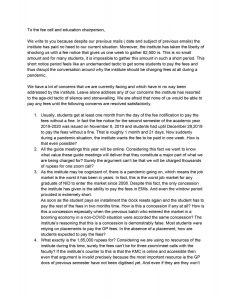 Reportedly, the college has exponentially raised the fee to Rs 1.65 lakh for the final semester (Semester V) for the period from July to November 2020 to be paid in two installments of Rs 82,500. The first installment needs to be paid before August 25.
The students have demanded "a fair concession on the academic fee based on these unforeseen circumstances" and "an extension for the fee payment without being levied the late fee fine", reported The Indian Express.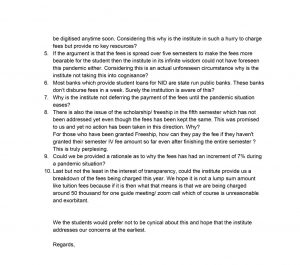 The college has reportedly increased the fee drastically over the years.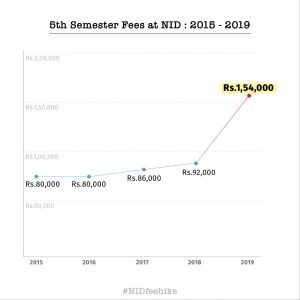 '…If the fee is kept as is, many students will be left with no choice but to drop out after two years of hard work. Due to the short notice for leaving the city, many MDes (masters in design) students still pay rent in Ahmedabad. This adds to the burden of full fees. The administration chose not to reply to the mail treating the student body of this institute as a non-integral; non-important part. The administration, in times of such economic crisis, instead has made a decision to increase the fee by 7 per cent for the MDes 2018 batch. Why was this decision made?" Student Activity Committee (SAC) said on Friday.
"Last year, the institute hiked the fee from Rs 92,000 to Rs 1.54 lakh for the semester. This year, it has been hiked to Rs 1.65 lakh for the last semester which is the internship and off campus. Also, amid the pandemic when there are no on-campus classes, they are asking for this fee for three zoom classes," a student was quoted as saying by The Indian Express.
"The request for the extension of the deadline for the payment of fees has been considered," the institute authorities told the national daily.
NID's registrar Rekha Nair said that the fees payable by the students is as per the fee structure announced at the time of their admissions and there is no difference in the fee structure originally communicated.
Nair also added that owing to the COVID-19 pandemic situation, the institute has already provided the students with a staggered payment option to pay the fees in two installments.