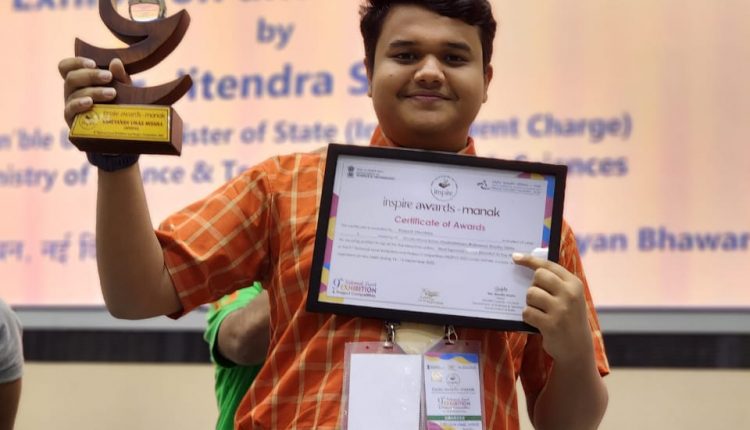 Bhubaneswar: Shreyansh Vikas Mishra has done SAI International proud.
He made his way into the top 60 out of 6.53 lakh ideas received from across India at Inspire Awards Manak (Million Minds Augmenting National Aspirations and Knowledge) at the 9th National Level Exhibition & Project Competition (NLEPC) by National Innovation Foundation Department of Science and Technology, Government Of India.
The award was conferred to Shreyansh by Jitendra Singh, Union Minister of State (Independent Charge) for Science & Technology and Earth Sciences at a ceremony held at Delhi's Vigyan Bhawan on Friday.
Shreyansh's project was Novel Ergonomics for Neck, an easy and affordable solution for neck discomfort. The device will reduce strain, fatigue and injuries by improving and providing much needed support to the various neck and spine muscle spasm and pain. It will be especially helpful for those who are forced to sit for long hours at work.
The 9th NLEPC was inaugurated at Delhi on September 15, where exhibits of 556 school students from across the country were displayed.
"It is a great milestone achieved by Shreyansh and his mentors at school. I congratulate the bright and intelligent boy and wish him best for his future endeavours. He has made us all proud," said SAI International Chairperson Dr Silpi Sahoo.
Senior Principal and Director Academics Nilakantha Panigrahi said the school is proud of Shreyansh for his diligence and dedication towards this award-worthy project.
"He has been consistent in his studies and has also been a very active participant in all school events. He secured 99% marks in his Class X Board exams and has always made us proud. His NASA Rover Project was also a huge milestone," Panigrahi said.
The SAIoneer himself was thrilled with his achievement.
"I am extremely happy to have been selected in the top 60 across the from 6.53 lakh ideas received from across India. I am thankful to my school, my teachers and above all our Founder Chairman Dr Bijaya Kumar Sahoo Sir, who always inspired and motivated me to think beyond the limits," said Shreyansh.