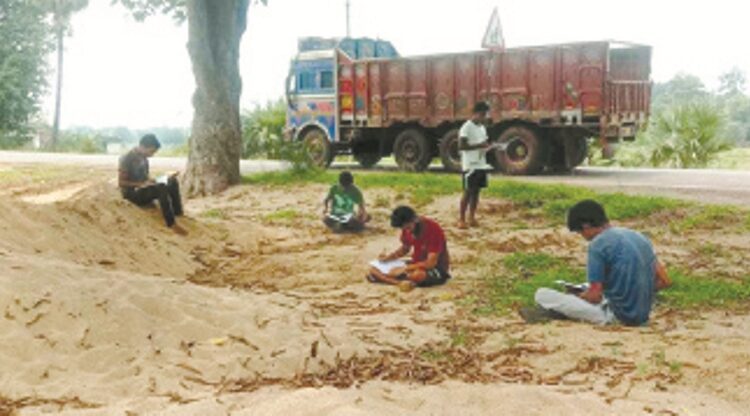 New Normal In Education: Odisha Students Brave All Odds To Attend Online Classes
Bhubaneswar: COVID-19 lockdown has coerced people to rely on the internet like never before. Whether it is for working or for kids to attend school from home, the internet has become more than a basic necessity.
While kids in the metro are somehow making ends meet, the scenario is completely different for the kids in the rural areas.
Kids, precariously perched on the branches with mobile phones in hand struggling to keep balance while listening to the lessons on the gadgets and taking notes at the same time are seen these days on the hills bordering Dudhari village in Similguda block of Koraput.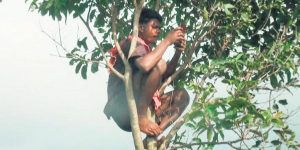 "We have to stay there for the major part of the day as classes are scheduled at different times. We take food and water so that we don't have to come back," Taba Nayak (15), a class IX student of Dudhari High school, was quoted as saying in a The Indian Express report. Taba has a group of around 12 students from his class while there are many others who throng the hilltop.
Owing to poor mobile network connectivity, the students move to the hills and the sidelines of the National Highway to attend classes under the State Government's 'Sikshya Sanjog' programme.
These children of Dudhari are not alone. Similar is the plight of students from villages in Pottangi, Narayanpatna, Bandhugaon and Semiliguda blocks. According to the report, Dudhari doesn't have a mobile tower, and the Jio tower at Semliguda and BSNL tower at Damanjodi do not provide decent connectivity in the village.
In a similar situation, few students of Aamagaon Village under Baarkot block of Deogarh were seen studying online on the sidelines of National Highway-10, where they seek the vantage point with a degree of stable mobile connectivity.
The School and Mass Education department had asked teachers to create WhatsApp groups for online classes to ensure they remain in touch with the students at a time when schools are closed.
Official sources said as many as 13,028 WhatsApp groups have been created for 1,66,494 students of 2,439 schools in the district. However, only 21 per cent of the school students are able to attend classes under the Sikshya Sanjog programme, said district education officer Ramchandra Nahak.
"The programme can achieve its objective if students have access to adequate resources. However, the School and Mass Education department is doing its best to ensure students do not miss out on academics," he said reportedly.
While Smartphone makers are already launching 5G phones with the telecom operators aiming to offer 5G connectivity sometime next year in India, the reality check conveys we are still quite far from being technologically developed.