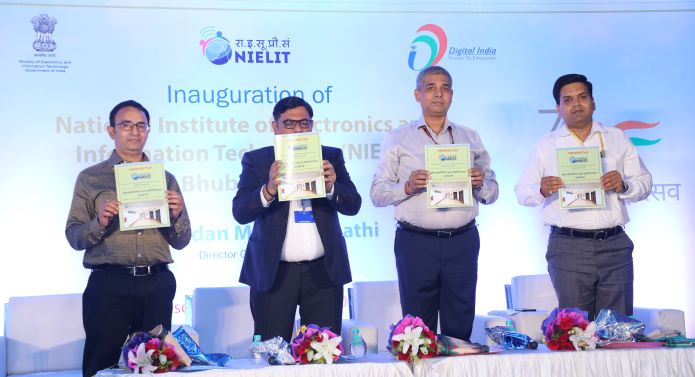 NIELIT DG Inaugurates Bhubaneswar Centre; How Will Students Of Odisha Benefit?
Bhubaneswar: The Bhubaneswar centre of National Institute of Electronics and Information Technology (NIELIT) was inaugurated by NIELIT Director General Dr Madan Mohan Tripathi at OCAC Tower on September 20.
Among others present were V Krishnamurthy, Executive Director of NIELIT Kolkata, Ram Prakash Pandey, Registrar and Anurag Mathur, Director In-Charge, NIELIT Bhubaneswar.
Welcoming the students, guests and other dignitaries, NIELIT Bhubaneswar Director-in-Charge Anurag Mathur informed that the Centre will promote NIELIT activities in the region along with providing interface & counselling.
Training in CCC, 'O' Level & NSQF aligned courses will provided at this Centre. NIELIT Bhubaneswar will also conduct/coordinate various examinations at its premises like DGCA, NIC recruitment, O/A/B/C level, NSQF & ESDM examinations.
Dr Tripathi appreciated the support extended by the Odisha government, which has approved 15 acres of land for development of a permanent campus in the state. He informed that 47 NIELIT Centres across India conduct long-term courses at postgraduation level in Electronics Design & Technology, Embedded Systems etc. which are not normally offered by universities/institutions.
Various short-term courses in Information Technology, Electronics Design & Technology, Manufacturing Technology, Maintenance Engineering, Information Security etc. are also being offered.
The objective of establishing an NIELIT Centre in Bhubaneswar is to impart training to students in the future skills and emerging technology areas.
Dr Tripathi further informed that that NIELIT is working with school boards, colleges and universities to integrate its digital skilling and future skill courses with their curriculum so that students can be employed by the IT/ITES/ESDM Industries. NIELIT will expand its activities by creating a full-fledged residential campus and also by opening extension centres in various parts of Odisha state to support the vision laid down through IT Policy 2022 of the state.
NIELIT Kolkata Executive Director V Krishnamurthy said that NIELIT is keen to provide all necessary support to the industries in respect of needs of capacity building and manpower supply, software development and recruitment examinations and related activities.
He further informed that NIELIT's non-formal education system is providing certification in IECT for a large chunk of workers, students, people who do not have any formal education but have acquired proficiency on their own or through family tradition/long experience and disadvantaged segments from rural and backward regions of the country.
He hoped that the Centre will cater to training, capacity building and skill development needs of people in Odisha.