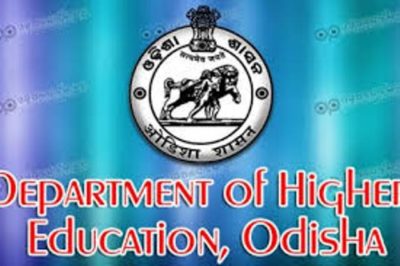 Bhubaneswar: The Odisha government on Wednesday requested the University Grants Commission (UGC) to extend the date for the undergraduate (UG) and postgraduate (PG) final semester exams to October 10.
In a letter to the UGC Secretary, the Commissioner-cum-Secretary (Higher Education), Saswat Mishra, wrote that the Odisha government had decided on June 18 to cancel all final semester/year UG and PG exams of universities and colleges due to the COVID-19 pandemic.
However, in its revised guidelines on July 6, the UGC stipulated that final semester exams must be compulsorily held by September 30.
Though the Supreme Court has also upheld the revised UGC guidelines, it has granted liberty to the states to make an application to UGC for extending the date in case they feel so.
Mishra said that the preparedness to conduct the examination was discussed with university vice-chancellors and principals of autonomous colleges on August 31 through video conferencing. All of them were of the view that since they had earlier not planned to conduct final semester/year exams, about 20 days would be required to make necessary preparation for conducting the examinations.
"Besides, since there will be multiple examinations (subject-wise and paper-wise), three to four examinations need to be slotted on all days to complete the examinations by September 30. Considering the above, conducting multiple examinations on a single day would lead to the congregation of a large number of students in the examination centre which will make compliance of COVID-19 prevention protocol difficult," he pointed out.
Mishra further said that conducting examinations on every day without any gap will make it difficult for the universities and colleges to sanitize and disinfect the examination centres before the next day of examination. Citing this difficulty, the vice-chancellors and principals had requested for extension of the September 30 deadline by 10 days up to October 10.
Stating that the Odisha government has also examined the matter in detail, he said that as the state is duty-bound under the State Disaster Management Act to prevent the pandemic situation which is getting further aggravated in the state, it is convinced that to prevent the prevailing situation from getting further aggravated, the final semester/year UG and PG examinations should be conducted in a staggered manner so that a large number of students need not come to the examination centres on any given day and the universities and colleges will get a gap of at least one day between examination days to sanitize the examination centres to ensure that the COVID  pandemic protocol can be put in place before the next day of examination.
"As directed by the Chief Minister and chairman of the State Disaster Management Authority, I request the UGC to kindly consider the extension of the dateline by 10 more days and communicate the approval of the extension of the dateline at the earliest," Mishra said.