Bhubaneswar: The Odisha government announced the commencement of physical classroom teaching for undergraduate and postgraduate students freshly admitted for 2021-22 session.
The UG classes will commence on November 1 while the PG session will begin on November 15.
In a letter, Principal Secretary to the Odisha government, Saswat Mishra wrote to the vice-chancellors of all State Public universities and principals of government and non-government colleges on Wednesday to reopen the doors with appropriate COVID protocols in place.
Check the COVID protocols below: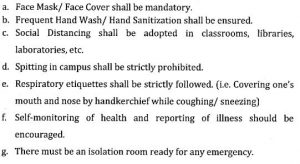 "Classroom teaching of First Year U.G and First Year P.G. students (Freshly admitted) from 01.11.201 and 15.11.2021 respectively in physical mode by following appropriate Covid-19 prevention protocols," the letter read.
The hostel facilities have also been made available for the students.
ALSO READ: Mo College Campaign: Odisha To Develop 40 Institutions Under 5T Transformation, Grants Rs 1.5 Crore