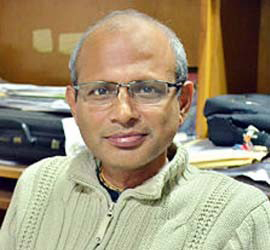 Odisha's Laxmidhar Behera Among New Directors Appointed To 4 IITs
New Delhi: An Odia educationist, Prof Laxmidhar Behera, has been appointed as the director of the Indian Institutes of Technology (IIT), Mandi. He is among the four new directors appointed to the IITs at Delhi, Madras, Indore and Mandi.
The others – Prof Rangan Banerjee of IIT Bombay has been appointed as director of IIT Delhi, Prof V Kamakoti of IIT Madras has been elevated as director of the same institute and Prof Suhas Joshi of IIT Bombay has been appointed as director of IIT Indore.
Prof Behera, the Poonam and Prabhu Goel Chair Professor in IIT Kanpur Department of Electrical Engineering, specialises in robotics and AI.
Speaking to Odisha Bytes, Behera said he has been flooded with phone calls from Odisha since his appointment. "There is a lot of excitement among my Odia friends. I am excited to receive their calls, after all my roots are in Odisha," he said.
He said that these are institutes of national importance and the responsibilities are challenging. "Our focus is on becoming globally visible, attracting best brains, more in terms of teacher and students, and on how to make the institute a research university. All these are very demanding and requires a lot of hard work," he said.
Besides his own areas – robotics and AI, Behera said he would also work on climate-controlled agriculture. "This is something which will suit Himachal Pradesh, which is a hilly area. The Netherlands and Israel are able to export food through this process by utilising bioenergy. A lot of biomass is available in hilly areas," he said.
The educationist said mental health has become a big issue. "Everyone is going through depression because of changes in the lifestyle. People need counselling and treatment. It will be a key area of my focus," he added.
During the COVID-19 lockdown in 2020, he ran a community kitchen on the campus to feed over 1000 street children daily.
Born in Talsara village under Bahanaga block in Odisha's Balasore, Behera had left Odisha in 1991 for higher education. After completing M Tech from NIT Rourkela, he got a PhD from IIT Delhi. Before joining IIT Kanpur in 2001, he had worked for BITS Pilani and as a scientist at the National Research Centre of Information Technology, Germany.
Prof Kamakoti, a member of the National Security Advisory Board, teaches at IIT Madras's Department of Computer Science and Engineering. Kamakoti helped design India's first indigenously developed microprocessor SHAKTI.
Prof Banerjee, a Forbes Marshall Chair Professor in IIT Bombay, is a B Tech (Mechanical) from the same institute. Later, he obtained a PhD (Mechanical Engineering), also from IIT Bombay.
The search-cum-selection panel constituted for this purpose had interviewed the shortlisted candidates in September last year.
Prof Joshi is the Rahul Bajaj Chair Professor at the Department of Mechanical Engineering at IIT Bombay. Serving as the Dean, Alumni and Corporate Relations of IIT-B, Prof Joshi is a fellow of Indian National Academy of Engineering, and National Academy of Sciences.
IIT Madras had topped the National Institute Ranking Framework (NIRF) rankings 2021 in the engineering category. IIT Delhi was placed second, IIT Indore 10th, while IIT Mandi had the 31st rank.
The outgoing directors of IIT Delhi Prof Ramgopal Rao and IIT Madras Prof Bhaskar Ramamurthi were serving on extension, with their five-year tenures having ended in April 2021.
IIT Mandi and IIT Indore were being led by acting directors Prof Ajit Kumar and Prof Neelesh Kumar Jain, respectively, stated reports.