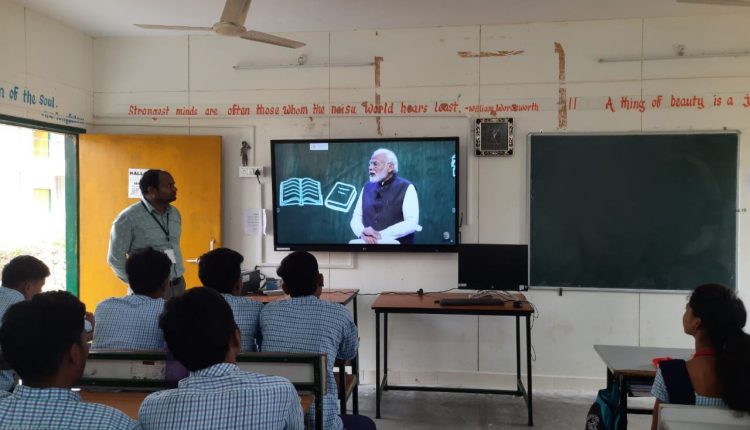 New Delhi: Thousands of students and teachers from Odisha attended the 5th edition of Pariksha Pe Charcha 2022 (PPC) virtually, as Prime Minister Narendra Modi interacted with students, teachers and parents at New Delhi's Talkatora Stadium on Friday.
The Union Ministry of Tribal Affairs shared pictures of students and teachers of Ekalavya Model Residential School (EMRS) watching the PM addressing lakhs attending the programme live and virtually.
Modi inspected the exhibits of students showcased at the venue before the interaction.
The PM Modi expressed happiness for being able to address the audience in person at Talkatora Stadium after last year's virtual interaction.
Observing that PPC is his favourite programme, Modi advised students to appear for exams in a festive mood without any stress.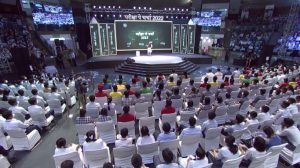 "Treat technology as an opportunity, not as a challenge," he said, adding that they should develop the capability to appreciate qualities in others and learn from them.
In a message for teachers and parents, Modi said: "Unfulfilled dreams of teachers and parents cannot be forced on students. It is important for children to follow their own dreams."
He encouraged students, telling them that they belong to a special generation. "Yes, there is more competition but there are more opportunities too," he remarked.
"Do things that you enjoy and that is when you will get the maximum outcome."
He told the audience that there has been exhaustive consultation on National Education Policy involving people across India. "20th century education system and ideas cannot determine our development trajectory in the 21st century. We have to change with times," he said.
He took questions from several students from the length and breadth of the country. He introduced a new practice in the 5th edition of PPC and said that questions which could not be taken by him will be addressed through video, audio or text message on the Namo App.
Among those present were several Union ministers including Dharmendra Pradhan, while a number of Governors, chief ministers attended virtually.