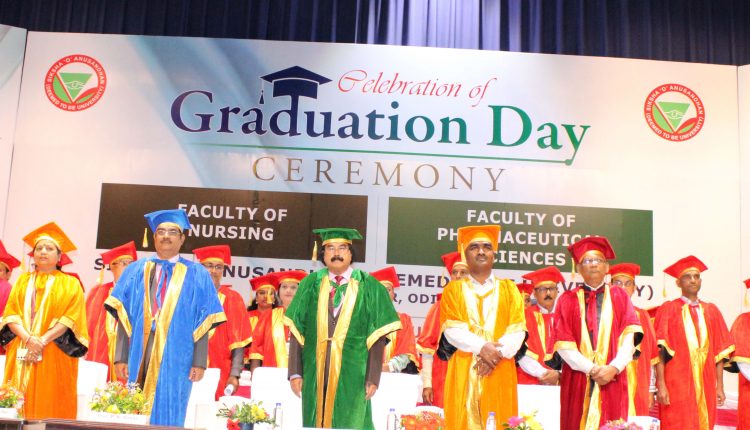 Pharmacy And Nursing Graduates Of Odisha's SOA Receive Degree
Bhubaneswar: Students who completed their studies in pharmacy and nursing at Siksha 'O' Anusandhan Deemed to be University (SOA) received their degrees at a graduation ceremony held on Tuesday.
Those who completed B. Pharm (2019-23) and M. Pharm (2021-23) courses from the School of Pharmaceutical Sciences (SPS), Faculty of Pharmaceutical Sciences of SOA, received their certificates from SOA Vice-Chancellor Prof. Pradipta Kumar Nanda who was the chief guest on the occasion.
Similarly, students belonging to three batches each of B.Sc. (Nursing), Post-Basic B.Sc. (Nursing) and M.Sc. (Nursing) who graduated from the SUM Nursing College (SNC) were presented testimonials at the special function.
B.Sc. (Nursing) students of 2017-20, 2018-21, and 2019-22 batch, Post-Basic B.Sc. (Nursing) students of 2019-20, 2020-21 and 2021-22 batch and M.Sc. (Nursing) students of 2018-20, 2019-21 and 2020-22 batch received their degrees.
Prof. Nanda, who administered the oath to the students, hailed the stupendous work done by nurses, pharmacists, and paramedics during the COVID-19 pandemic across the world which saved crores of lives. "The knowledge you have received here will go a long way in helping you to serve the society," he said.
SOA Pro-Vice Chancellor Prof. Sitikantha Mishra, Controller of Examination Prof. Manjula Das, Dean of SPS Prof. Sudam Chandra Si, Dean of SNC Prof. Prabhati Tripathy, Dean (Students' Welfare) Prof. Jyoti Ranjan Das, Head of the Centre for Biotechnology Prof. Sanghamitra Nayak, Additional Dean of SPS Prof. Debajyoti Das, Additional Dean of SNC Prof. Sasmita Das, members of the Academic Council and faculty members were present.