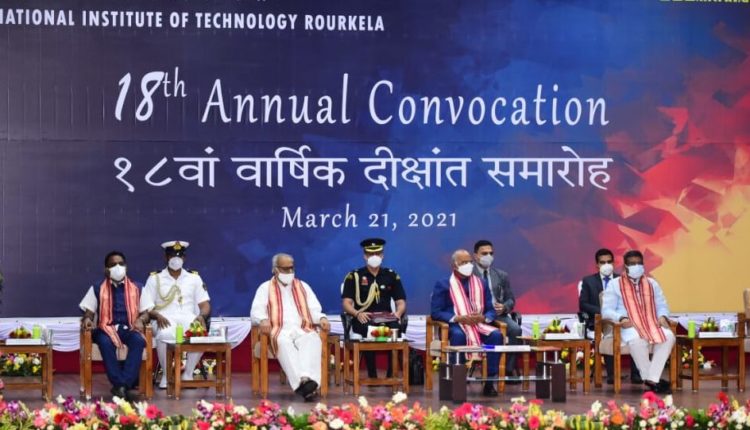 President Kovind Advises NIT Students To Introspect & Chart Path For Future
Rourkela: President Dr Ram Nath Kovind on Sunday advised the students of National Institute of Technology (NIT) not to limit themselves by the pressures of the conventional notion of success and societal pressures.
"I advise you to never judge your success only in terms of material gains. You don't have to limit yourself by the pressures of the conventional notion of success and societal pressures. You need to figure out what you really want to do in life. Choose to do what gives you satisfaction and meaningfulness. Do what takes you closer to your aspirations. Do what makes your family proud of you and plan for yourself for a fruitful and productive path ahead," Kovind said while addressing the 18th annual convocation of NIT-R here.
There is a huge responsibility on each one of them to pay back to the society and the country which have contributed to their education and success so far, said the President.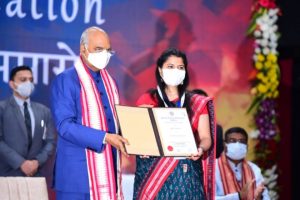 "The stage of life in which you find yourself today is usually full of dreams and aspirations on the one hand and uncertainties and apprehensions on the other. This is also the time to make major life decisions like starting a job, pursuing your dreams and supporting your families. While doing all these, I urge you to introspect. What are the values and principles you stand for, what is the kind of career you want to pursue. By far the most important point of introspection is what kind of person you want to become. I am sure everyone wants to be a good citizen who always keeps the interest of the country uppermost in the mind," he pointed out.
The President also asked the students to always look at the famous talisman of Mahatma Gandhi: "Recall the face of the poorest and the weakest man (woman) whom you may have seen, and ask yourself, if the step you contemplate is going to be of any use to him (her). Will he [she] gain anything by it? Will it restore him [her] to a control over his [her] own life and destiny?"
Talking about the achievements of NIT Rourkela, he said as the second largest government technology institute in Eastern India, it has made significant contributions to the field of engineering and technology and has been enriching the pool of tactical professionals in the country for six decades.
ALSO READ: Space Technology Incubation Centre To Come Up At NIT Rourkela In Collaboration With ISRO