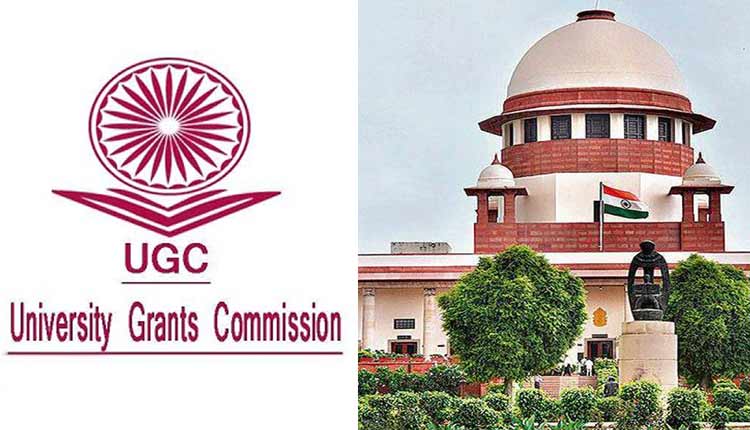 New Delhi: The Supreme Court adjourned the hearing of the petition by 31 students, challenging the University Grants Commission (UGC) guidelines on conducting final-year university exams amid the COVID-19 pandemic, till August 10.
While refusing to pass interim orders in the matter, the apex court asked the Union Ministry of Home Affairs (MHA) to clarify its stand on the issue.
While adjourning the matter to August 10,  the court directed that affidavits be filed by August 7 and rejoinders a day after.
The Bench of Justices Ashok Bhushan, R Subhash Reddy and MR Shah was hearing a batch of petitions, challenging the July 6 guidelines issued by the UGC to universities across India requiring them to complete their terminal semester exams by September 30.
On July 30, the UGC had informed the SC that it will not alter its July 6 guidelines mandating universities across India to conduct their final year examinations by September 2020.
In its 50-page affidavit, the commission stated that its decision was taken "after due deliberation by taking into account and balancing all relevant factors".
However, rebutting UGC, the lead petitioner in the case through Advocate Alakh Alok Srivastava submitted a rejoinder before the apex court, stating that the commission has shown complete apathy to the students.
According to an IANS report, the rejoinder by the petitioner states that UGC had failed to take into account the worsening COVID-19 crisis in India. It is averred that more than 52,000 COVID-19 cases had been added in the last 24 hours alone and there was no sign of any improvement betterment before September 30, even as per the ICMR Report.
The rejoinder further stated that UGC had ignored the floods in Assam, Bihar and North-Eastern states, which has killed hundreds of people and badly affected more than many districts of these states, making it virtually impossible to conduct either online or offline exams.
He also added that the UGC had also failed to take into account the fact that many states had already announced a complete lockdown, reportedly.
"Many big cities have several containment zones. Free movement of students will be restricted and will cause a lot of harassment. Most importantly, there is non-availability of free air/rail/bus/other transport movement in many parts of the country," Srivastava said in the counter-affidavit, according to the media reports.