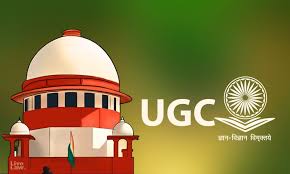 SC Reserves Order On Pleas Opposing UGC Final Year Exams; Know Who Said What
New Delhi: Hearing a clutch of PILs challenging the UGC's guidelines to conclude final year examinations amid the COVID-19 pandemic, the Supreme Court on Tuesday reserved its verdict and asked all the parties to file their written submissions, if any, within three days.
The top court will also decide whether state governments have the power to take a decision against conducting final year examinations under the Disaster Management Act.
Here are the major arguments made during the hearing:
Senior Counsel Arvind Datar, taking the court through counter filed by the UGC, said, "UGC can lay down standards but it has no jurisdiction with regards to the conduct of exams as per judgment of the Constitution Bench."
He elaborated the cumulative assessment system provided in the UGC guidelines, 2003, which was objected by Solicitor General Tushar Mehta on the grounds of uniformity.
Datar also argued, "UGC can say don't award a degree without holding of an exam but it cannot say that you hold the exam by September 30 at any cost. When we could not hold exams when the cases were at 15,000, how can we hold now?"
Justice Ashok Bhushan said, "There are two parts in play here- one is UGC laying down the guidelines and standards, and the other is States declaring that they cannot allow holding of exams. The question also here is that declaration of results without holding of exams may not be within the domain of the Disaster Management Act."
Counsels and Advocate General representing Maharashtra, Odisha, Delhi and West Bengal made their submissions and AG of Odisha highlighted technological inaccessibility and disparity among students for online exams; and the threat of exposure to the virus in case of physical exams.
Senior Advocate Meenakshi Arora, the lawyer for one of the petitioners, in her submission said, "Some students can give exams now, some can't. The leftover students will lose out on jobs and opportunities later on."
Advocate Alakh Alok Srivastava invoked Article 14, and said, "Students passed out earlier would be treated at a different footing than students passing out this year. This would be violative of Article 14."
Solicitor General Tushar Mehta, appearing for the UGC, contended before the top court that final year is the degree year and exams cannot be done away with. He also cited examples of exams being conducted by some universities and added that many top-level universities have opted for online exams. Mehta insisted that foreign universities and further education require degrees.
Justice Bhushan asked SG Mehta, "The only issue which we need an answer to is if the state Disaster Management Act of Maharashtra has decided not to conduct exams, can that override UGC guidelines?"
To which SG Mehta replied, "It cannot override the directions of the UGC which is functioning under a different statute in a different area."
Following these arguments, the apex court clarified that further interventions will not be permitted and it will pronounce its order after receiving the written submission.