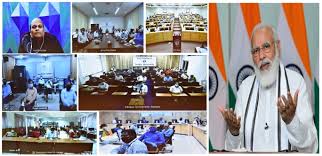 Shikshak Parv Conclave Aims To Bring National Education Policy To The Forefront
New Delhi: The Ministry of Education will be organizing a two-day conclave on 'School Education in 21st Century' under Shikshak Parv on September 10 and 11.
Prime Minister Narendra Modi will be addressing the conclave on September 11.
On August 7, the PM had addressed the conclave on 'Transformational Reforms in Higher Education under National Education Policy' through video conferencing.
The upcoming two-day online conclave aims to assess how the National Education Policy (NEP) is being implemented.
On day 1, the focus will be on principals and teachers, who will talk about how they have already implemented certain themes of the NEP in creative ways. On the second day, there expert practitioners will share their views.
Shikshak Parv is being celebrated from September 8 to 25 to felicitate teachers for their contribution to education and also to create awareness on NEP.
The Education Ministry will also be organizing a series of webinars on NEP and its implementation. Each theme will target different sets of stakeholders of the education system and will involve participation of schools, teachers, students and parents as well.