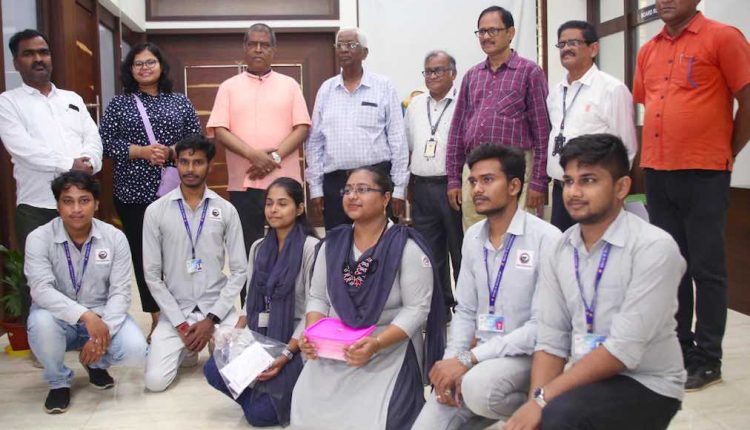 SOA Agri Students Develop Trichocards In Lab To Help Farmers
Bhubaneswar: Students of Institute of Agricultural Sciences (IAS), SOA's faculty of agricultural sciences, have started developing trichocards in the laboratory, which is known to be of immense benefit to farmers as it could help them save their crops from harmful pests without using pesticides.
"Trichogramma, a primary parasitoid grown in the lab, is used to destroy the eggs of pests which are a cause of huge concern for the farmers. They don't need to use pesticides to save the crop as this natural procedure is far cheaper and environment friendly than using chemicals in the cropland," said Dean of IAS Bijay Kumar Sahu.
Each trichocard contains around 20,000 parasites and when released in the agricultural field, they attacked the pests destroying them at the egg stage. "This not only destroys the pest but also protects the environment by eliminating the need for pesticides," Sahu said.
Students of the Entomology department, who have been developing the trichocards in Bio-Control Lab, met SOA Founder President Manojranjan Nayak on Thursday to apprise him about the work being done by them in the labs. SOA Chancellor DP Ray expressed happiness over the students developing trichocards in the lab.
Founding Member Upasana Nayak, Additional Dean (Research) Priyabrat Pattnaik, Dean (Students' Welfare) Jyoti Ranjan Das and Additional, IAS, Dean Santosh Rout were also present.
Bijay Kumar Mishra, Head of the Department of Entomology, said the use of trichocards could immensely help protect crops including cereals, pulses and oilseeds as also cotton and sugarcane. The insect, the length of which is 0.4 to 0.7 mm, mostly attacked the borer insects which caused the maximum damage to crops, he said adding it was the most utilized biological control agent in the world.
While a farmer would require to spend around Rs 5,000 to spray pesticide in one hectare of cropland to fight the pests, the same could be achieved by investing one-tenth of that amount by deploying trichocards, he said.