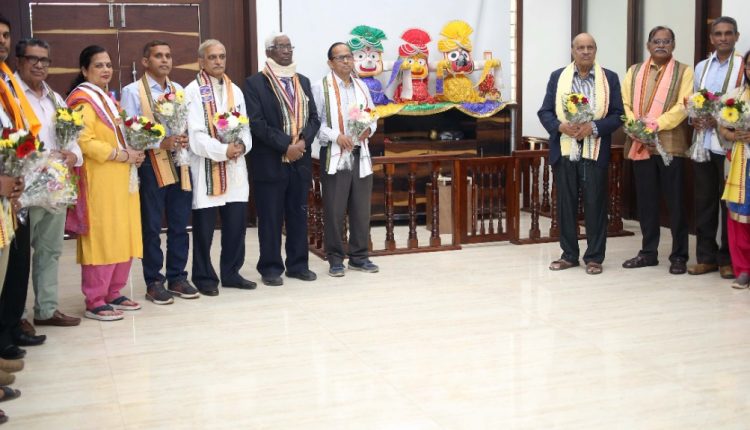 SOA Researchers In 2% Stanford World Ranking Felicitated
Bhubaneswar: Researchers of Siksha 'O' Anusandhan (SOA), who figured in the world ranking of top two per cent scientists drawn up by Stanford University of USA for 2022, were felicitated on Friday by the Deemed to be University for their achievement.
Twelve of the 16 SOA researchers were present at the felicitation ceremony presided over by Chancellor Prof DP Ray, who congratulated them for their accomplishments saying it would encourage young research scholars to strive hard in their respective fields.
The scientists present at the ceremony were Prof (Dr) Ashok Kumar Mahapatra, eminent neuro-surgeon and Vice-Chancellor of the university Prof. Kulamani Parida, Prof Lala Behari Sukla, Prof Niharbala Devi, Prof Goutam Rath, Prof Rabindranath Padhy, Dr Manoj Kumar Nayak, Prof Binod Kumar Sahu, Dr Susanginee Nayak, Dr Dipti Prava Sahoo, Dr Satya Ranjan Mishra, Dr Manohar Mishra.
Prof (Dr) Pradipta Kishore Dash, Prof Rajashree Dash, Prof R.N.P. Choudhary and Dr Sulagna Patnaik missed the event.
Lauding the scientists for their excellent research work in different fields, Prof Ray said SOA being a multi-disciplinary university, which was ranked 16th in the National Institutional Ranking Framework (NIRF) this year, provided a marvellous platform for interdisciplinary research. "It is for the researchers to take it forward," he said.
Pro-Vice-Chancellor-cum-Registrar Prof. BB Pradhan and senior officials were present.