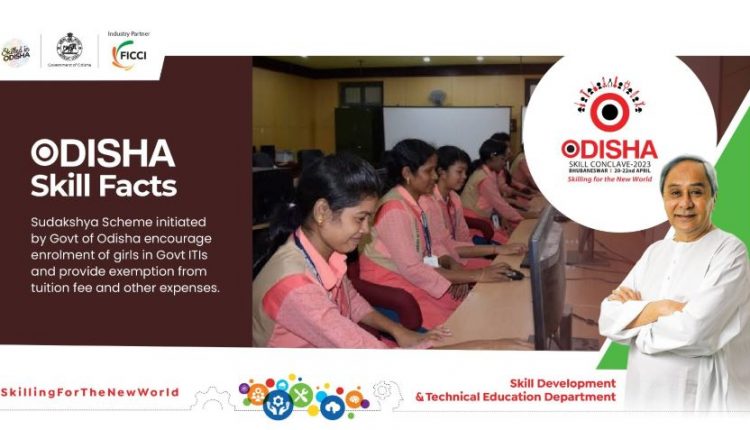 Bhubaneswar: The Odisha government has decided to enrol girl students who are interested in pursuing polytechnic education under Sudakshya scheme.
This was stated by Minister of Skill Development and Technical Education Pritiranjan Ghadei at a press meet in Bhubaneswar on Saturday after Chief Minister Naveen Patnaik reviewed the achievements of the department during the last 4 years.
He said the Sudakshya scheme, which was launched to improve girls' enrolment in ITIs, has witnessed remarkable success with the percentage of girls increasing from 6% in 2016-17 to 22.5% in 2022-23. Building on this success, the department has decided to enrol girl students in Sudakshya, he added.
Considering the need for residential facilities, hostels have been provided in 49 ITIs and 33 polytechnics while construction is in progress in the remaining ones.
The Budget allocation for the department increased from Rs 719 crore in 2019-20 to Rs 811 crore in 2022-23. In the 2023-24 budget, the department was allocated Rs 986.25 crore registering an increase of over 21%.
The minister said since its establishment in 2011, the department has prioritised the expansion and upgradation of infrastructure in skilling institutions. Today the state has a robust network of 60 government ITIs with an annual intake of 20,000 candidates, 34 polytechnics, 82 Skill Development Centres, 2 management institutes, 5 engineering colleges and 3 technical universities.
In order to promote industry-oriented skilling, more than 16 Centres of Excellence have been established in technical universities, ITIs in areas such as healthcare, data analytics, computing, renewable energy, and electric vehicles.
During the Odisha Skill Conclave 2023, more than 24 MoUs were signed with reputed organisations including ITE Education Services, Singapore; Schneider Electric Foundation; Philips Machine Tools; Mitutoyo South Asia; Drone Federation of India; Festo; Coursera, and ISB, etc. reaffirming Skilled-in-Odisha as a recognized brand.
Considering the importance of technology-driven skilling, the department has introduced new-age trades in ITIs, including Internet of Things, Drone Technician, Drone Pilot, Smart Agriculture, Mechatronics, and Smart City Solar Technician. To promote digital skilling among students and faculty members of ITIs, polytechnics, and engineering colleges, partnerships with reputed industries have facilitated the training of over 30,000 students and more than 300 faculty members.
To further give fillip to skilling in future skills and new-age courses, Nutana Unnata Abhilasha (NUA) scheme was announced in the Budget 2023-23 with an allocation of Rs 100 crore. The scheme aims at providing skill training to one lakh youth in emerging technologies such as Cloud Computing, Artificial Intelligence, Augmented Reality-Virtual Reality, Data Science, and 3D printing, Ghadei said.
Principal Secretary Usha Padhee presented detailed information on the outcome and success of the department in the review meeting.