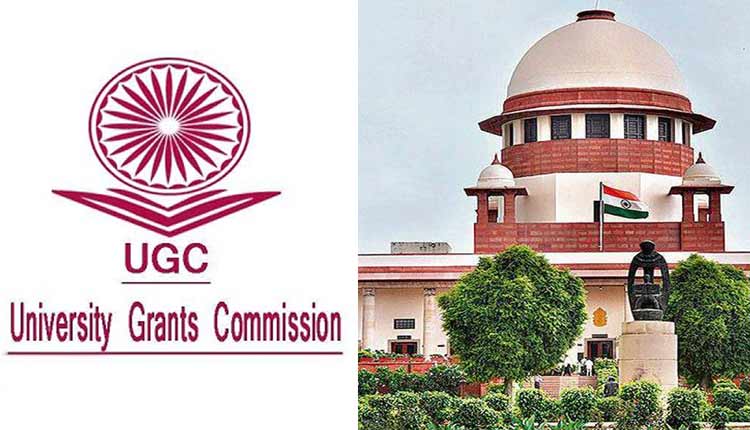 UGC Final Exam Mandate: Longer Wait For Students As SC Defers Hearing To August 18
New Delhi: The Supreme Court on Friday put off hearing on a bunch of petitions challenging the University Grants Commission's (UGC) July 6 guidelines that mandated the conduct of final year/terminal semester university exams amid the COVID-19 pandemic to August 18.
This means students would have to wait longer for the answer on the verdict on the final year university examinations this year.
The petitioners have asked for the cancellation of the final year examinations, but UGC has maintained that degrees cannot be awarded without examination.
Appearing for one of the petitioners, Yash Dubey, senior advocate Abhishek Manu Singhvi stated about the exponential surge in COVID-19 cases. He told the Bench comprising Justices Ashok Bhushan, R Subhash Reddy and MR Shah that the matter was related to the "life and health of students".
"The UGC guidelines now are 'one size fits all' method and do not consider the issues of transport and accessibility. The pandemic is a global problem. It is an extraordinary situation: It is state neutral, class neutral, politically neutral. National Disaster Management Act applies to everything and in every district. Even courts also are required to be physically shut due to NDMA. Exams have to be held after teaching… Teaching has been disrupted and how can exams be held now? All educational activities were stopped for the last five months. There is a direct nexus between teaching and being tested."
Appearing for Yuva Sena, senior counsel Shyam Divan referred to the circulars issued by the MHA under the Disaster Management Act, "These guidelines lay down a minimum standard of strictness to be adhered to by States and UTs. They may not dilute it. When the guidelines are advisory, then they should be tailor-made based on local needs. Also, many States certain hostels and other facilities (that will now be used) have been used temporarily as quarantine centres. Unlock 3 notification which also prescribes for educational institutions to remain closed till August 31. It further delegates power to States to take the liberty to impose further restrictions if required. Once the Disaster Management Act is invoked in a disaster condition and the right to life has been elevated, then the authorities cannot come in and exert power to dilute the provisions."
He also argued, "When exams could not be permitted to be held when the confirmed cases in India were in thousands, then how can they be allowed to be held now with cases being in lakhs and intensity increasing. The students are a homogenous group and this group cannot be severed artificially by treating first-year students differently from final year students."