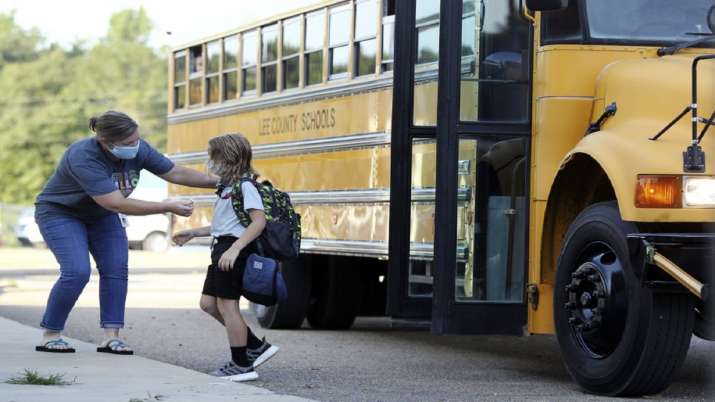 Indiana: Around 97,000 children in the USA tested positive for coronavirus in the second half of July. This is just weeks before schools and universities reopen in the States.
The shocking figure has been taken from the American Academy of Pediatrics dated July 16 to 30, according to a Mirror report.
Some schools in the United States are reopening for face-to-face classes from this month, even when though the number of deaths by COVID-19 in the country has crossed over 162,000. Dr. Tina Hartert, of Vanderbilt University, said increased testing of kids is key to understanding their role in transmitting the killer bug, quoted the Mirror.
Hartert is leading a government-funded study that has provided DIY testing kits to 2,000 families."The kits are shipped to the families, they are taught how to collect these samples, and then the samples are sent back by the families to a central repository," she told CBS News.
Initially, children were believed to be less susceptible to the virus. However, at least 25 kids have died in the US in July from COVID-19.
With the schools reopening, teachers and school bosses are looking for solutions on how to follow restrictions while educating pupils. Some universities have also been planning to reopen with certain new restrictions including banning parties, road trips, and outside visitors.
More than 100 students were home quarantined after being exposed to infected classmates in Corinth School District in Mississippi. Moreover, a photo at North Paulding High School, Georgia, has gone viral. Pupils there were seen studying without wearing masks.
In a briefing at the White House, US President, Donald Trump was also quoted as saying that the virus had little impact on children. "Children can handle it very well. If you look at the numbers, in terms of mortality, fatalities … for children under a certain age … their immune systems are very very strong and very powerful," he said to a reporter.
The number of confirmed COVID-19 cases have reached 10,590,929 in the United States. Moreover, several schools in Mississippi, Indiana and Georgia have already reported infections within a few days of reopening.