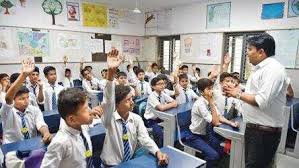 Uttar Pradesh Government Introduces 'Remedial Classes' In Government Schools
Lucknow: The Uttar Pradesh officials on Saturday announced that all the government-run primary and upper primary schools in the state will have a 40-minute 'remedial class' in the first period for students to clear their doubts and basic concepts.
The initiative is being introduced to help students improve their concepts and is reportedly going to help 12.8 million (1.28 crore) students enrolled in over 1.08 lakh primary and around 50,000 upper primary schools spread across 75 districts in the state, the officials informed.
The concept of remedial classes in schools has been introduced to achieve UP CM Yogi Adityanath's 'Mission Prerna' launched in September 2019 which aims at strengthening the foundation skills of students from class 1 to 8 in government-run schools across UP, as reported by Hindustan Times.
The decision to introduce remedial classes was taken after taking aptitude tests of students earlier in February 2020, which showed most students lacked basic concepts.
For this around 5.50 lakh assistant teachers, shiksha mitras and part-time subject instructors working in these schools are also being trained online between July 20 and August 14, the officials further informed, as reported by the national daily. The training mission is being supervised by State Project Office of Samagra Shiksha Abhiyan at Lucknow and Prayagraj-based State Institute of Educational Management and Training (SIEMAT), Uttar Pradesh.
The government had earlier planned to introduce separate classes for weak students which have now been discontinued for being against the concept of inclusive education.