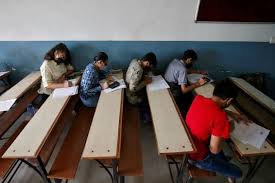 Want NEET & JEE To Be Postponed, Not Cancelled: Maharashtra Minister
Mumbai: Maharashtra's Minister for Higher and Technical Education Uday R Samant has clarified that his state wants the JEE and NEET examinations to be postponed, not cancelled.
Maharashtra is among six states to have filed a review petition on Friday, urging the Supreme Court to reconsider its recent order rejecting the postponement of the entrance exams.
"We never wanted to cancel the exams, we wanted it to be postponed to a suitable time in view of the COVID-19 crisis," Samant was quoted as saying by Business Insider.
Samant added that the state government will consult universities and students on the issue before deciding how to implement the SC order. "We respect the SC order. We shall take into account the health and safety concerns of the students before deciding how to conduct the exams," the minister said.
Maha Vikas Aghadi partners Shiv Sena, Nationalist Congress Party and Congress on Thursday appealed to the Centre to postpone the exams keeping in mind safety issues candidates and difficulties they will face in travelling to the exam centres.