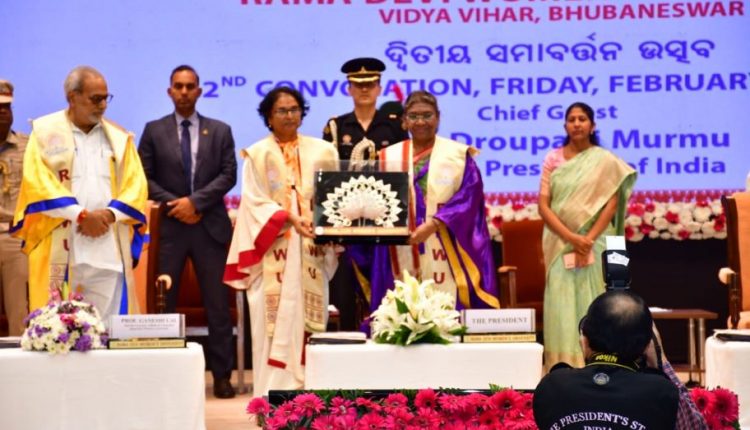 Women Empowerment No More A Slogan In India, Says President Murmu At RD Women's University Convocation
Bhubaneswar: President Droupadi Murmu on Friday said women empowerment is no more a slogan in India, it has become a reality in the present society.
Speaking at the annual convocation of RD Women's University in Bhubaneswar, the President said, "The women no more consider themselves inferior to men. They have proved that they are capable of shouldering any responsibility of the society and the country at large."
"Be it politics, science & technology, sports, literature, music or arts, the women have excelled in every realm of life. The gender discrimination that used to create social disparities has been shattered. For the first time in the history Parliament, there are more than 100 MPs now," said the President.
Murmu, who was a student of RD Women's College, on an emotional note recalled her days in the campus. Stating that she was overwhelmed by the love and affection of the unviersity's students and lecturers, she said she felt proud to be the student of the institution.
"When I was a student in the college, girls from all strata of life, from a farmer's daughter to chief minister's daughter were studying here. There was no feeling of discrimination among us. All of us were studying with a competitive spirit and dedication to excel. I feel previleged to be part of this college," she said.
Recalling her time, the President said since she came from a family with limited financial sources, she could not afford having meals in the college canteen. "I managed with the tiffin sold by the hawkers just outside the college boundary. But I was happy. Those days shaped me to be a better human being," she added.
The President and Odisha Governor Prof Ganeshi Lal, who is also the Chancellor of the university, gave away degrees to the students. Total 22 students, including 15 from PG departments, 4 Science graduates, one Arts graduate, one commerce graduate and the best student of the university, were presented gold medals at the convocation.
The President also honoured 4 women achievers in different fields by conferring doctorate on the occasion. They included Soumya Swminathan in science and technology, Purnamasi Jani in literature and social service, Sunita Krishnan in women empowerment and social service and Odissi dancer Aruna Mohanty in arts and culture.
Union Education Minister Dharmendra Pradhan, Odisha's Culture Minister Ashok Panda and Education Minister Rohit Pujari were among prominent guests at the function.