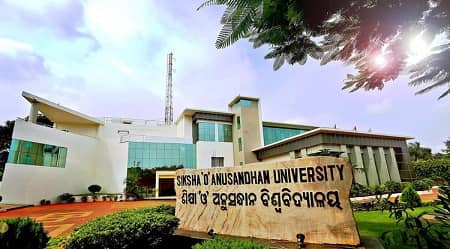 16 SOA Researchers Included In Prestigious Stanford University List Of Top 2% World Scientists
Bhubaneswar: Sixteen researchers of Siksha 'O' Anusandhan (SOA) Deemed to be University have found a place in the world ranking of top 2% scientists for 2022 drawn up by USA's renowned Stanford University on the basis of a subject-wise analysis.
SOA had 13 researchers in Stanford University's 2021 list of top 2% scientists, while there were 11 in the 2020 list.
Nine SOA researchers have figured in the list for all these three years — Prof. (Dr) Ashok Kumar Mahapatra, eminent neurosurgeon and currently SOA's Vice-Chancellor, Prof. (Dr) Pradipta Kishore Dash, Prof. Kulamani Parida, Prof. Lala Behari Sukla, Prof. RNP Choudhary, Prof. Goutam Rath, Prof. Niharbala Devi, Dr Manoj Kumar Nayak and Dr Satya Ranjan Mishra.
The others in the 2022 list are Prof. Rajashree Dash, Dr Manohar Mishra and Dr Sulagna Patnaik, who had made it to the 2021 list as well. Four other researchers — Prof. Rabindranath Padhy, Prof. Binod Kumar Sahu, Dr Susanginee Nayak and Dr Dipti Prava Sahoo — have been named in this year's list for the first time.
Rajashree Das is a professor and Dr Mishra an Associate Professor in Institute of Technical Education and Research (ITER), SOA's faculty of engineering and technology, while Dr Patnaik is an ex-research scholar of ITER.
Among those who have found a place in the prestigious list this year, Prof. (Dr) Pradipta Kishore is an eminent figure among nationally known researchers in the field of energy and a former Vice-Chancellor of SOA, while Prof. Parida and Prof. Sukla have been working in areas of Physical Chemistry and Mining & Metallurgy, respectively. Prof. Choudhary is from the field of Applied Physics and Prof. Devi is engaged in research in Mining & Metallurgy.
Prof. Rath works as Professor in the department of Pharmaceutics at the School of Pharmaceutical Sciences, SOA's faculty of pharmaceutical sciences, while Dr Nayak is an Associate Professor at ITER. Dr Mishra teaches Mathematics at ITER.
Prof. Parida works as Distinguished Professor in Chemistry and is Director of SOA's Centre for Nano Sciences and Nano Technology. Dr Susanginee and Dr Dipti Prava are research scholars working at the centre.
Prof. Sukla is Research Professor and Director of SOA's Bio-fuel and Bio-processing Research Centre. Prof. Choudhary, who earned his Ph.D from University of Edinburgh, and was head of the department of Physics at IIT, Kharagpur, is presently Professor of Physics at ITER while Prof. Devi has more than 30 years of research experience.
Prof. (Dr) Padhy is a professor in the Central Research Laboratory of IMS and SUM Hospital while Prof. Binod Kumar Sahu is working as professor at ITER.
SOA has 16 research centres and 58 research labs with most of the work aligned to national priorities.