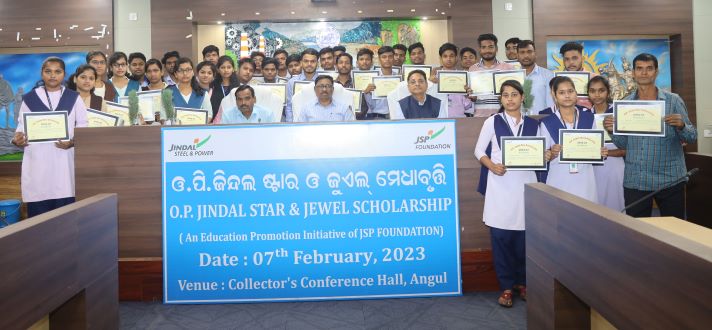 40 Students Of Odisha's Angul Receive JSP Foundation's OP Jindal Scholarships
Angul: JSP Foundation, the CSR arm of Jindal Steel and Power (JSP), awarded OP Jindal Star Scholarship and OP Jindal Jewel Scholarship to 40 meritorious students from financially weaker sections of Angul district.
Santosh Kumar Pradhan, Angul's Additional District Magistrate, presented the scholarship cheques to the selected students in presence of Executive Director JSP Damodar Mittal, District Education Officer Niranjan Sahu and other functionaries JSP CSR Foundation functionaries.
Of the 40 students, 13 received OP Jindal Jewel Scholarship for their higher education and 27 under OP Jindal Star Scholarship.
The OP Jindal scholarship has been awarded to a total of 1052 students of Andul since 2010.
JSP Foundation has also launched Yashasvi Scholarship for Post-Matric Vocational Education & Higher Education courses, which was awarded to 552 girls and women of Angul district.
A total of 5630 girls and women from all locations of JSP have received Yashasvi Scholarship.
ADM Pradhan urged the students to dream big by adhering to core human values and social responsibilities.