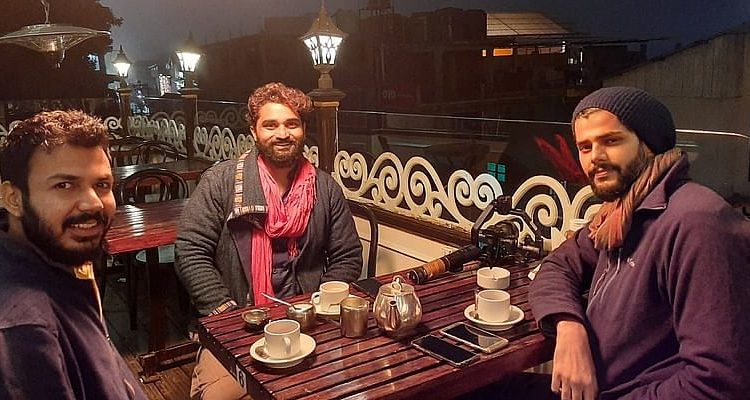 A Banker, A Bike Lover & An IIT Kharagpur Alumnus Trek Into Uncharted Territory
New Delhi: "Barely making it alive in my jeans and torn windcheater jacket, that was the moment I actually felt a life. After returning from the trip, I couldn't settle for anything less. I applied for a job in a tracking organisation and packed my bags for Rishikesh."
These are the words of investment banker-turned trekking entrepreneur Oshank Soni, who decided to make a trip to Kolkata in 2014 to get away from the monotony of daily life.
Life has not been same for Soni since then.
The trip to Kolkata led to a road adventure across Gangtok and Darjeeling, and culminating in a trek to Goechala summit.
It was an eye-opening experience for the young entrepreneur.
Soon, Soni started a startup called Trekmunk along with Harshit Patel and Mohit Goswami in 2016. Apart from organising treks to remote parts of the Himalayas, they also organize trail cleaning treks and escort doctors to higher altitudes to treat the less fortunate, reported Your Story.
Fate brought the three together, as they met at an orientation in Rishikesh and got along instantly.
Mohit is an IIT Kharagpur alumnus, while Harshit is survivor of a major bike accident.
The three worked in a travel-based organization for four months, before forming one of their own.
As part of their policy Trekmunk, which was launched in Delhi-NCR, doesn't deal with commercialised trek routes like Kedarkanth Trek.
"The most important mission is to bring a positive change around us," says Oshank.
The startup, which had a turnover of Rs 1 crore in 2019, is however facing multiple challenges due to the coronavirus pandemic. The most basic challenge is not being able to organize treks during these trying times.
The company is working on an app through which their clients can stay in touch with fellow trekkers and assess details of the vast Himalayan terrain.
They are also working with NGOs towards making their operations more environment-friendly and going paperless.