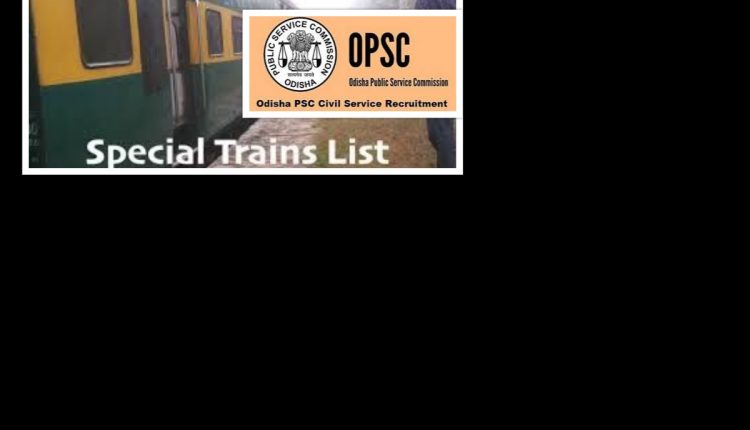 Check The Details Of Special Trains For Odisha Civil Services Preliminary Exam Aspirants
Bhubaneswar: To facilitate the candidates appearing Civil Services Preliminary Examination, Ministry of Railways have decided to run Examination Special Trains in East Coast Railway (ECoR) jurisdiction on October 3 for cities, where examinations are being conducted.
These trains will leave at 4 pm from Brahmapur, Kendujhargarh, Khariar Road and Ichhapuram and from Koraput at 5 am and another at 1 pm and will reach at their exam centre cities in the evening on the same day.
Special Trains:
1. Brahmapur-Cuttack MEMU Examination Special.
2. Kendujhargarh-Cuttack MEMU Examination Special.
3. Ichhapuram-Visakhapatnam MEMU Examination Special.
4. Khariar Road-Sambalpur Examination Special.
5. Koraput-Cuttack Passenger Examination Special.
6. Koraput-Visakhapatnam Passenger Examination Special.
7. Rourkela-Cuttack via Jharsuguda Examination Special
8. Baripada-Cuttack Examination Special
9. Vijayawada-Visakhapatnam Examination Special
Timings for trains from Rourkela, Baripada and Vijayawada will be given shortly, an ECoR press release said.