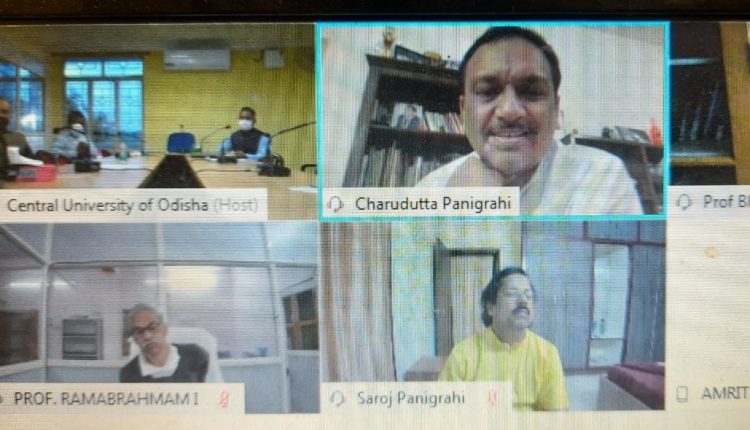 Koraput: The importance of Gandhian thought and 'Atmanirbhar Bharat' will have to be the mantra for economic and social revival of the country amidst COVID-19 pandemic, believes Member of Parliament, House of Lords, Lord Bhikhu Parekh.
Lord Parekh was speaking at an international webinar, organised by the Central University of Odisha (CUO) on Gandhi Jayanti.
During his conversation with author Charudutta Panigrahi, Lord Parekh  emphasised on spirituality and way of life. "In the Mahatma's thinking, spirituality underlies and illuminates his political views. In his life too, his spirituality leads to political values. Both aspects are critical… one won't do."
He added: "His message to the youth was — never go away from the eternal values: truth, non-violence and the notion that property does not belong to me, I am merely a trustee of it. These are very important values and they will remain eternal. Gandhi forged the instrument of Satyagraha out of them. When differences crop up when one needs to fight against injustice, how should one give the fight? The fight has to be just one. Rational discussion is not sufficient; violence is not acceptable. Then what shall one do? Gandhi's answer was Satyagraha".
Lord Parekh, who taught at the London School of Economics and headed the Academy of 'Learned Societies in Social Sciences' as a Fellow, called for translating Gandhiji's dream of 'AatmaNirbhar Bharat' into reality.
Lord Parekh, who was honoured with Padma Bhushan by the Government of India for his global contribution to growth of public policy as an instrument of change, gave away prizes to students who topped Essay Writing and Film Exhibition-related competitions relating to Gandhiji's life and living.
Dr Akshaya Rout, Prof. Durga Prasad and CUO Vice-Chancellor Prof. I. Ramabrahmam were among others who participated in the webinar. They requested Lord Parekh to help create a Chair in 'Political Science and Public Policy'.