Delhi University Announces Admission Schedules For UG, PG Courses
New Delhi: The Delhi University (DU) on Friday announced the schedules for undergraduate (UG) and postgraduate (PG) admissions for the academic year 2020-21.
As per the schedule, DU is going to conduct the UG merit-based admissions for the first cutoff between October 12 and 14. For the second cutoff, admissions will be conducted between October 19 and 21 and admissions are from October 26 to 28 for the third cutoff.
However, the UG Entrance Based Admission for the first merit list will be conducted from October 19 to 21 while the PG admission process will begin on October 26.
Here is the schedule from Delhi University: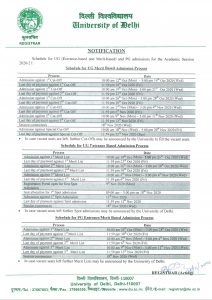 DU admission process has been made online and will be carried out in a contactless manner due to COVID-19 and to maintain social distancing norms.