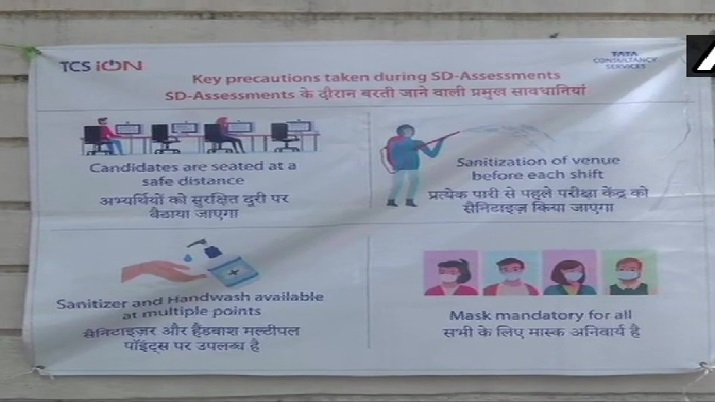 New Delhi: The National Testing Agency (NTA) has started the Joint Entrance Examination (JEE) on Tuesday despite severe backlash from the students.
However, plenty of precautionary measures were taken at the exam centres. Social distancing was maintained by marking spaces on the ground and thermal screening of the candidates on arrival was also done.
Images of social distancing, students with masks and other protective gear at different centres have been shared on social media.
Gujarat: Candidates starts arriving at TCS ION Digital zone in Ahmedabad, designated as an examination centre for #JEEMain. #COVID19 measures being followed & temperature of candidates being checked at the centre. pic.twitter.com/YQ8XEvwZ1x

— ANI (@ANI) September 1, 2020
Karnataka: Candidates arrive at SJM Infotech Private Limited in Bengaluru, that has been designated as an exam centre for #JEEMain. The temperature of candidates being checked as they arrive. pic.twitter.com/YTiJetyd7z

— ANI (@ANI) September 1, 2020
Karnataka: Candidates arrive at SJM Infotech Private Limited in Bengaluru, that has been designated as an exam centre for #JEEMain. The temperature of candidates being checked as they arrive. pic.twitter.com/YTiJetyd7z

— ANI (@ANI) September 1, 2020
Chhattisgarh: Candidates appearing in #JEEMain arrive at ICE centre in Raipur's Sarona, that has been designated as an examination centre. pic.twitter.com/gMZiCnmHy7

— ANI (@ANI) September 1, 2020
#WATCH: Candidates queue up outside TCS at Patto Plaza in Panaji, Goa – designated as an exam centre for #JEEMain. They are being made to discard their masks and are being provided fresh masks after their temperature is checked, in the wake of #COVID19. pic.twitter.com/oekpUNmqlk

— ANI (@ANI) September 1, 2020